New Representative in Vietnam
Friday, 6 August, 2010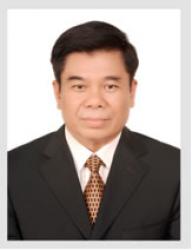 ICE WaRM has appointed Dr Le Van Minh as Partnership Support Adviser, based in Vietnam and covering the Mekong sub-region. This is the organisation's second overseas-based team member, following the appointment of Risyana Sukarma in Indonesia in January.
Dr Minh's appointment is a further step in ICE WaRM's continuing initiative to build and extend collaboration with its partners in the Mekong sub-region, encouraging more students, trainees and professionals to further their water-related studies.Dr Minh, who's based in Hanoi, is a highly-respected professional and leader with more than 35 years experience in sustainable water resources management at senior levels.
He currently acts as Chairperson for the Global Water Partnership, South-East Asia (GWPSEA). Previously, Dr Minh was Director General, International Cooperation in the Vietnamese Ministry of Agriculture and Rural Development (MARD) for more than 10 years. Earlier senior positions include two years as Director General of the Vietnam National Mekong Committee (VNMC) and Assistant Chief Executive Officer, overall Officer-in-Charge and Director, Resources Development with the Mekong River Commission Secretariat, then based in Bangkok.
Dr Minh holds a Bachelor Degree from Moscow Civil Engineering University and a PhD from St Petersburg Civil Engineering University in Russia and has completed additional formal studies in Hanoi.
ICE WaRM extends Dr Minh a warm welcome to the team. He is already well known to many of our existing and potential partners in the Mekong sub-region and, in this new role, looks forward to expanding the Centre's collaborative networks.