New partnership supports ten largest river systems in Asia
Wednesday, 26 September, 2018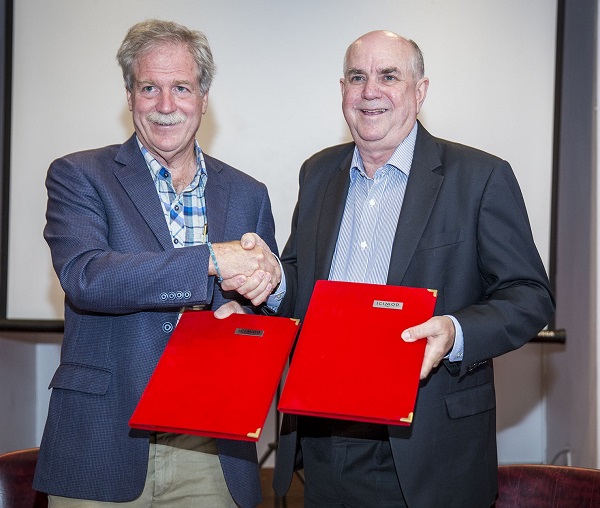 ICE WaRM has signed a new partnership agreement with the International Centre for Integrated Mountain Development (ICIMOD), providing a significant opportunity to work collaboratively to support equitable and sustainable use of water for people in the Hindu Kush Himalayas.
From Afghanistan in the west, to Myanmar in the east, the Hindu Kush Himalayan region extends 3,500 km over all or part of eight countries. Water originating from the Himalayan snow, glaciers and rainfall, feed the ten largest river systems in Asia, providing drinking water, irrigation, energy, ecosystem services and the basis for livelihoods to around 1.3 billion people living in the region. This valuable resource is under increasing threat and the effects on people, communities and ecosystems can be devastating.
Both organisations recognise the value of this Partnership Agreement in our commitment to deliver impact internationally through access to knowledge, expertise, and infrastructure that cannot be achieved solely through either organisation.
"We are looking forward to building on the strong foundations established through working together on a range of projects on DFAT SDIP initiative which commenced with a High Level Study Programme for senior water leaders in Nepal in 2014," said ICE WaRM's Managing Director, Darryl Day.
By partnering with organisations with complementary capabilities, ICE WaRM seeks to increase impact on water resources management and our nexus with energy and food, to develop and implement international and domestic programmes and project opportunities.
One of the contributions that ICIMOD brings to the partnership is expertise in customising state of the art remote sensing, geospatial, modelling and in situ measurement technologies for monitoring natural, environmental, and social changes in the region.
Earlier this year ICE WaRM joined with ICIMOD to deliver the Asia-Pacific Water Leadership Programme in Australia, to senior and mid-level scholars and faculty members across disciplines of water studies and water resource management in the Hindu Kush Himalayan region.
The 12-day programme focused on integrated river basin management and governance, including various aspects of the integrated water resources management approach, including gender, ecosystems, social inclusiveness and community engagement, public and private cooperation, and water sharing between sectors and across states.
ICIMOD
The International Centre for Integrated Mountain Development
DFAT SDIP
Department of Foreign Affairs and Trade Sustainable Development Investment Portfolio