New Arrivals from the Yellow River, P R China
Tuesday, 27 January, 2009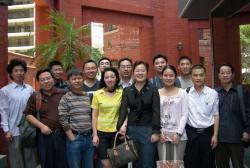 The third group of delegates from China's Yellow River Conservancy Commission (YRCC) has started to arrive in Australia to study under ICE WaRM's internationally-acclaimed water resources management programme.
The men and women will spend eight months based in Adelaide studying for ICE WaRM's Graduate Certificate in Water Resources Management and improving their English language skills. The students also will take part in study tours, industry placements and water management forums.

The students enjoyed a welcome bbq at ICE WaRM's headquarters in Adelaide on their arrival. So far, they are enjoying Adelaide and looking forward to commencing their studies.
Their arrival follows the success of ICE WaRM's most recent collaboration with the YRCC, which brought 18 of the Commission's emerging leaders to study in Australia in 2007.
The Yellow River is China's second largest river and plays an important role in the nation's economic development – it serves 12 million hectares of agricultural land and delivers crucial hydro-electric power. Every year, an average of 400 million tonnes of sediment is deposited in the lower reaches of the river – raising the river bed by about 10 centimetres.
The Yellow River originates in the Yueguzonglie basin in the Tibetan highlands and along its 5500 kilometres, flows through nine Chinese provinces before emptying into the Bohai Sea. More than 107 million people live in the river basin.
ICE WaRM's education programmes will help the YRCC ensure the sustainable management of the river and basin resources.