New approach to water policy and legislation in Nepal
Thursday, 2 May, 2019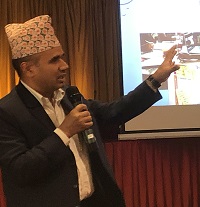 Ongoing cooperation between Nepal and Australia through the Sustainable Development Investment Portfolio initiative on water policy and legislation reached a new milestone this week through two key workshops in Kathmandu, attended by the Australian Ambassador to Nepal, HE Pete Budd.
During a High-Level Study Programme on water management in 2017, organised by ICE WaRM, for Parliamentarians from Nepal, there was strong interest in Australia's political experience in water policy and governance as a federation. In 2015 Nepal embraced a move to a federation and in 2017, elected the first three-tier government in Nepal's history.
This experience brought nearly 60 political leaders from the Federal and Provincial parliament together for the first workshop, on the 29th April, to engage in dialogue on new water policy. Focussing on Centre-Province Relationship in Water Resources Development and Management in Federalism, this workshop was jointly hosted by the Agriculture, Cooperatives & Natural Resources Committee (Federal Parliament) and the Ministry of Energy, Water Resources and Irrigation (through the Water & Energy Commission Secretariat).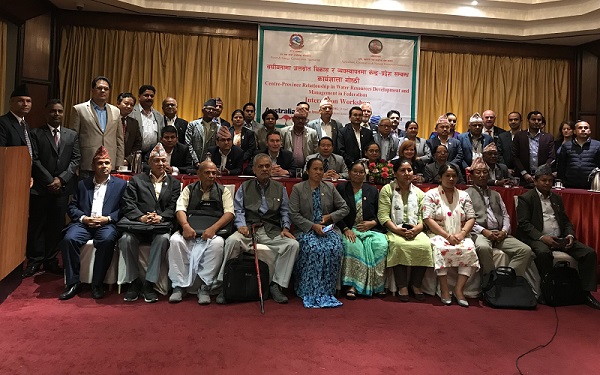 The Hon Karlene Maywald, former Chair of the National Water Commission and Minister for Water Security (South Australia), provided a keynote presentation on Water Governance, through a political lens, drawing from over 100 years of the water reform journey under cooperative federalism. Ms Maywald shared experiences on the challenge of political trade-offs and the need to have full knowledge of impacts on all sectors of the community. She also explained that all sectors of government must work together on water and that it is critical to adopt a long-term vision that transcends political cycles.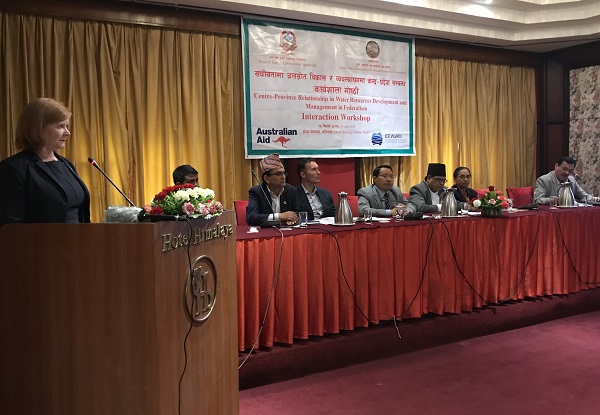 "Every future government will be influenced by the decisions you make now and that future generations will judge you on the decisions you make today." said Ms Maywald.
As Nepal travels down the path of implementing Federalism, following the 2018 elections, through the establishment of provincial and local governments, the sharing of journeys provided valuable dialogue on the priorities for water policy and governance.
The addresses by the Speaker of the House of Representatives and Minister for Energy, Water Resources and Irrigation, expressed the importance of water policy reform on the sustainable economic development of Nepal. HE Peter Budd highlighted the critical need for water policy to address water security and resilience in the context of a changing climate with the forecast of 50-60 % of the loss of glacier pack in the Hindu Kush Himalayan region by 2050.
On 30 April 2019, the Water and Energy Commission Secretariat (WECS) of Nepal, with the support of the Australian Government through the Australian Water Partnership and the International Centre of Excellence for Water Resources Management (ICE WaRM), hosted a workshop with federal and provincial legal and water management experts.
The intention of the workshop was to support government officials, particularly those involved in the drafting of provincial water related legislation, by sharing Australia's experience in water resources management, promote discussion and discuss possible pathways for drafting provincial water related legislation. Although Australia does not have model water law in state and territory jurisdictions, there are examples on this approach in Australia for environmental and health model law. Ms Megan Dyson, Water Law Expert, and Mr Kala Poudyal, Joint Secretary WECS, facilitated discussions on advantages and opportunities for model law at provincial government level.
"Overall, participants showed broad support for exploring the development of a model water law that could provide a consistent approach across provinces and still allow for different rules where needed, to address the unique circumstances of the different provinces." said Andrew Johnson, ICE WaRM Executive Sector Specialist.
It was recognised that some policy issues would require further development before any law could be drafted. This included how to sustainably share water among provinces and different users and what the different levels of government would be responsible for in law.
ICE WaRM would like to acknowledge the Sustainable Development Investment Portfolio funded by the Department for Foreign affairs and Trade, the support from the Australian Water Partnership, and SDIP partner CSIRO, for making the opportunities possible.