Indian Water Resources Ministry Visit
Thursday, 29 January, 2009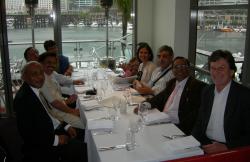 The Asian Development Bank (ADB) team in New Delhi engaged ICE WaRM to host a delegation of very senior Indian Government officials for a technical study tour of water resources policies and management in Australia late in 2008.
The delegation was led by the Secretary of the national Ministry of Water Resources, Mr Umesh Narayan Panjiar, and included the Chair of the Central Water Commission, officials from the Prime Minister's Office, other national agencies and state Departments of Water Resources, and senior representatives of ADB.

The six-day visit covered the three southern states of the Murray Darling Basin and the ACT, and included an intensive round of meetings with counterpart officials at state and national level in Australia. Time was also found in the hectic itinerary for some very brief glimpses of national landmarks, flora and fauna, and of course some practical examples of innovative water management practices in Australia.
Discussions with Australian counterparts in Canberra, Adelaide, Melbourne and Sydney were very comprehensive and interactive, and the visitors were able to focus on the Australian lessons learned and their relevance to water management in India. The wrap-up conversations highlighted the depth of understanding gained in such a short time. All the delegates were happy with the arrangements and outcomes, and keen to continue with follow-up on their return to India.
To facilitate the follow-up exchange, ICE WaRM also hosted a web portal for sharing of information and files between the delegates and with the Australians met during the visit.
The visitors were very restrained in the inevitable discussions about cricket and the recently completed test series between India and Australia, and this restraint was gratefully acknowledged by the Australian hosts.