India moves forward with Water-Life mission
Thursday, 22 August, 2019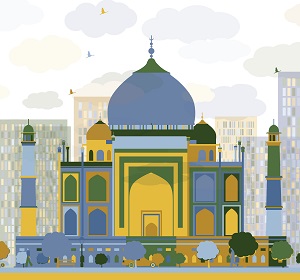 The Australian Water Partnership (AWP) is sponsoring Australia as Partner Country at the Confederation of Indian Industries, 5th Water Innovation Summit and is providing registration for a 20-member delegation to the event 18-19 September.
With Memorandums of Understanding between the South Australian government and the Indian states of Maharashtra and Rajasthan, Australian businesses are uniquely placed to effectively engage with businesses in India through established relationships and government support.
The Water Innovation Summit and Australian Water Business Mission to India (16 – 20  September 2019, New Delhi, India) are timely given the Indian Prime Minister's ambitious undertaking to extend potable drinking water to 150 million (15 Crore) homes in 5 years, announced in his address from the Red Fort on India's 73 Independence Day celebrations on the 15th August.
Speaking at the Red Fort, in Delhi, Prime Minister Narendra Modi, passionately outlined the challenge that "almost half of the houses in Hindustan (India) are those which do not have drinking water. They have to struggle to get drinking water. Mothers and sisters have to go to two-three, three-five, five-kilometres carrying pot, carrying the burden on Kosir".
The Prime Minister announced that India will move forward in the coming days with the Water-Life mission. The Water-Life mission will see the central and state governments working together on a USD $50 billion plan which includes water harvesting, treating seawater or waste water, 'Per Drop, More Crop' and micro Irrigation for farmers.
Prime Minister Modi said that the plan also includes a "campaign to save water; citizens should become aware, sensitive to water, understand the importance of water, children should also be taught the importance of water from childhood. For water collection, we constantly try to revive the sources of water and we move forward with the belief that the work done in the water sector in the last 70 years, we have more than four times that work in 5 years"
"We have to move forward on the ideals of the common people, on the expectations of the common people, on the potential of the common people," said the Prime Minister
ICE WaRM's Managing Director, Darryl Day, congratulated India on setting such a bold and critical change.
"The transformational agenda and approach based on the principles of integrated water management, will improve the livelihoods and well-being of millions of people through addressing the challenge in addressing the Human Right to water and sanitation, and the Sustainable Development Goal 6," said Mr Day.
"The challenge requires not only infrastructure, but policy, governance and institution reform, and strengthening. This requires collaboration and partnerships both within India and with the global community."
Related links
Independence Day: Full Text of Narendra Modi's Red Fort Speech
Read here
Webinar: Building farm level capacities in irrigation water management
Watch this webinar