Immediate Action Required for Future Drought
Friday, 20 July, 2012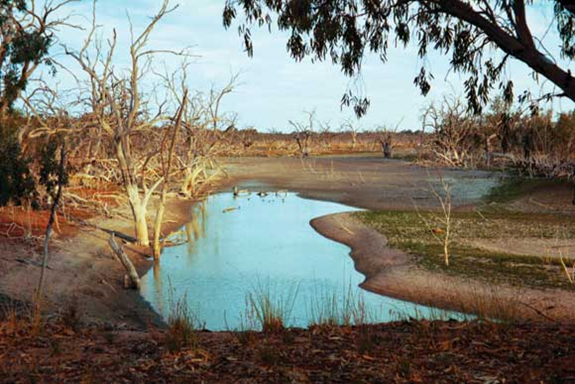 Urgent action must be taken to prepare for southern Australia's next drought – despite the recent rainfall, according to a report released by the International Centre of Excellence in Water Resources Management (ICE WaRM).
The report, from an ICE WaRM-led workshop which studied management of the millennium drought, says priorities need to be set after examining the full cost of the recent drought and also taking into account the potential future impact of climate change.
Among other things, the report says necessary approvals with agreed triggers should be established in advance to ensure a plan can be put into action as soon as drought strikes.
The workshop was told that a number of consequences from the drought persist in South Australia – including water quality in the Coorong and Lower Lakes, acid drainage from the Lower River Murray Irrigation Area and cracked levee banks.
However, the workshop, organised with the support of the South Australian Department for Water, was told that overall the River Murray Drought Response Programme successfully achieved its goals – water for critical human needs was available at all times, water quality was maintained, acid sulfate soils were managed, the entire Lower Lakes did not acidify, the horticulture industry was assisted with purchased water enabling it to survive and riverbank collapse was managed as a state hazard.
In announcing the release of the report, South Australia's Minister for Water and the River Murray, Paul Caica, said: "The state would have faced a catastrophe if action had not been taken. Acid sulfate soils in the Lower Murray would have impacted the environment of the Lower Lakes, Adelaide may have had to rely on bottled water and investment in irrigated horticulture would have perished."
The workshop was attended by representatives of the community, businesses, research organisations and government agencies and heard details of the whole of government response which emerged during the drought.
ICE WaRM Chief Executive Richard Hopkins said South Australia's handling of the drought has attracted interest from around the world.
"There is substantial interest in Australia's recent experience in responding to the drought," Mr Hopkins said. "We have built drought management as a major area of expertise and it's a source of great interest for delegations we host from around the world."
The drought workshop, which was part of ICE WaRM's Living Laboratories programme, is the first step in a longer process to fully document South Australia's response to the drought and develop new strategies to deal with future environmental emergencies.