ICE WaRM Principal Sponsor of Book Launch
Wednesday, 10 March, 2010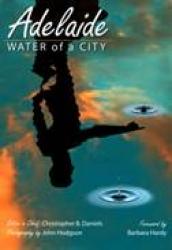 "Adelaide: Water of a City" is a new book which focuses on the environmental, climatic, engineering, historical and social issues, problems and pitfalls that Adelaide faces in understanding water. The launch, an event hosted by the Royal Institution of Australia, was held on Wednesday 10 March at the Hilton Adelaide Hotel.
ICE WaRM was proud to be a principal launch sponsor which was attended by more than 350 people. The event included a panel discussion on water in Adelaide, led by ABC Radio National's Robin Williams, and a photographic exhibition of photos by John Hodgson.The book is edited by Christopher B. Daniels, the University of South Australia's Professor of Urban Ecology, and includes contributions from 130 predominately South Australian authors, from academia, government, industry and private enterprise. It is published by Wakefield Press.
For more information about the book or to purchase a copy, please contact the Barbara Hardy Centre for Sustainable Urban Environments.