ICE WaRM hosts Chilean Water Group (JVRC): 3rd – 11th June 2016
Thursday, 30 June, 2016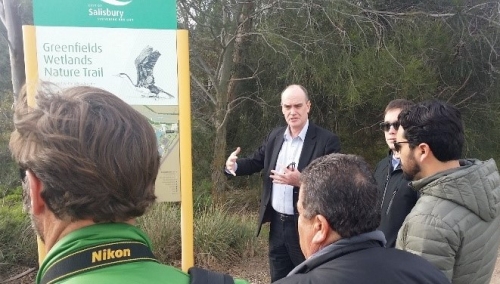 ICE WaRM hosted the Study Visit to Australia of eleven Chileans, visiting Canberra, Adelaide, Loxton and the Murray Mouth.  The group are members of the Junta de Vigilancia del Río Copiapó (JVRC) -ie the Supervisory Board for the River Copiapó in Chile. They are Research Scientists, Engineers, Agriculture Technicians and Business Leaders.

The Study Tour was instigated by JVRC who approached CSIRO, a close associate of ICE WaRM on international activities.
Meeting with senior staff at MDBA, CSIRO, DEWNR, Rural Solutions SA and Primary Industries and Regions SA, the group were on a mission to study water efficiencies that could be applied in Chile.
They travelled to Murray Mouth/Lower Lakes region, a RAMSAR Site, Loxton Research Centre and met with many of our top policy makers, managers and innovators here in Australia including Karlene Maywald (ICE WaRM Chairman); CSIRO's Warwick McDonald, Peter Wallbrink, Francis Chiew; MDBA's David Dreverman,
Bruce Naumann at Salisbury Water (see pic above); Dan Jordan at Water and Climate Change SA; Brett Kennedy and Daniel Casement Rural Solutions SA, Primary Industries and Regions SA; Glenn Shimmin at DEWNR's River Murray Operations and Major Projects Branch.
They came to Australia with the objective of learning from the Australian experience in water management. Studying optimization, general management and technology management in both storage dams and related technologies, they also learnt about artificial recharge of aquifers and other initiatives related to water use efficiency and water scarcity. From all the site visits and meetings the Chilean group saw first-hand Australia's leading-edge water management and talked with the key people.