ICE WaRM European Exchange Scholarship
Thursday, 16 July, 2009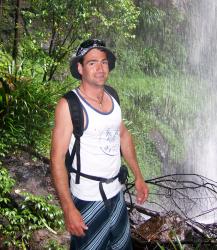 Brett Ibbotson has been named as the first Australian student to win one of ICE WaRM's coveted European Union-Australian exchange scholarships.
Thirty-year-old Brett, from Encounter Bay near Victor Harbour in South Australia, is studying ICE WaRM's Master of Water Resources Management programme at the University of South Australia and will be spending five months at the University of Delft in The Netherlands.Brett is a Bachelor of Technology graduate from Flinders University, where he majored in aquaculture. In The Netherlands, he will be working on a project to develop photovoltaic desalination plants for remote areas.
"Delft University has a reputation as one of the leaders in water resources management and the scholarship will help me gain further top-level experience," Brett says.
He leaves Australia at the end of August and will return here at the start of February.
The scholarships assist students with travel costs and provide a monthly living allowance. They are open to post-graduate students taking water-related courses at ICE WaRM's partner educators – the University of Adelaide, the University of South Australia, Flinders University, Deakin University and CQUniversity.
The three leading European universities taking part in the scholarship scheme are the University of Dundee in Scotland, the Technical University of Delft in The Netherlands and the Technical University of Dresden in Germany.
The scholarships allow up to 45 students from ICE WaRM's Australian partner universities and another 45 students from Europe to take part in the exchange.
.
Two European students, both from The Netherlands, were the first to earn scholarships and are now studying at Deakin University in Victoria.
Exchange students can take courses in water resources management or carry out research at the exchange institutions. All courses will be presented in English.