ICE WaRM, CSIRO and NCGRT work together on a Study Visit by Pakistan Water Engineers
Sunday, 10 July, 2016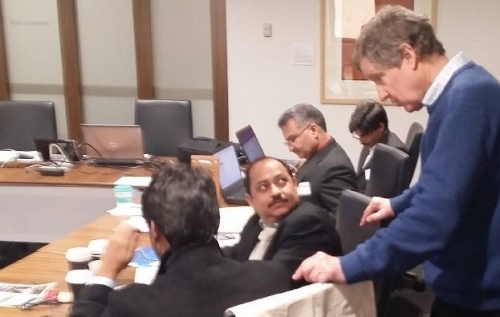 As part of the Australian Government's Sustainable Development Investment Portfolio (SDIP), ICE WaRM in partnership with CSIRO, designed and delivered groundwater modelling and management workshops in Australia for six engineers from Pakistan govt organisations:
•  Water and Power Development Authority (WAPDA)
•  Punjab Irrigation Department (PID)
•  Sindh Irrigation Department (SID)
This Study Visit was a forerunner for the imminent signing of the Subsidiary Arrangement between Government of Pakistan and Government of Australia that covers the activities under the Pakistan SDIP project, aiming to build technical capacity in Pakistan to meet its Indus basin water management challenges.
This Study Visit followed on from two previous training workshops on Integrated River System Management and Modelling which was attended by Provincial Irrigation departments and key universities in Pakistan on 25 November 2015.  During these workshops the strong interaction between surface-groundwater was highlighted as well as the importance of groundwater for agricultural and urban supplies.  Consequently, a need was identified to build groundwater modelling capacity within WAPDA, PID and SID.
The Study Visit was in two parts;
Part 1: At NCGRT/Flinders University studying Groundwater Modelling theory, under Dr Michael Teubner.
Part 2: At the CSIRO Canberra laboratories building an Indus Basin Groundwater Model with CSIRO's Dr Wolfgang Schmidt and colleagues.

Pakistan delegates arriving to study at Flinders University City Campus on a cold Adelaide morning.