Hydrology & Hydraulics Course Starts the Year
Thursday, 26 March, 2009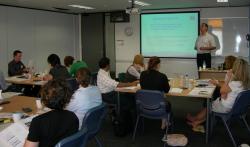 The ICE WaRM short courses programme commenced in March with the two day Hydraulics and Hydrology for Non-engineers.
Held in Brisbane, the course was presented by Terry Lucke of UniSA and attended by a group of 14 people, whose work backgrounds were in local government, health or natural resources.

The participants aimed to become more knowledgeable on what was involved in hydraulic and hydrological work and thus become better skilled at managing and working with others on such subjects.
Terry did an excellent good job in introducing the participants to the material as well as instructing them in the equations and concepts used by engineers, ensuring that the course was favourably received by all and served its purpose in providing a training course that was both accessible and useful for personal and professional development.