Honouring inspiration for sustainability
Wednesday, 4 July, 2018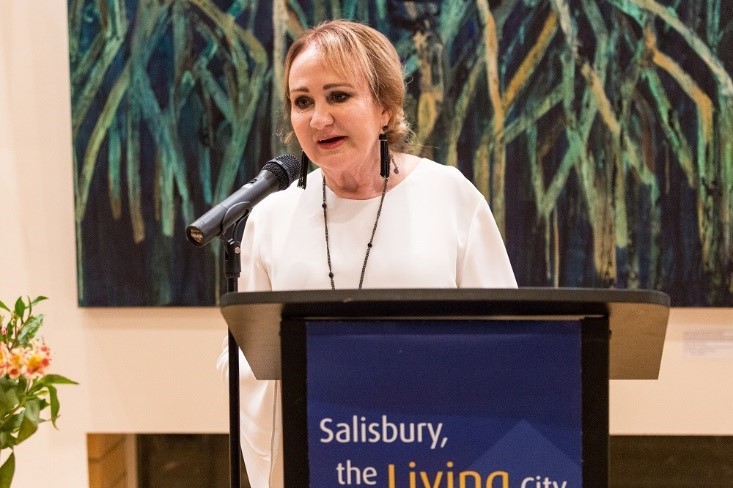 ICE WaRM congratulates the Mayor of Salisbury, Ms Gillian Aldridge, who received a Medal of the Order of Australia for service to the community and local government.

Recognised internationally as a leader in sustainable solutions, the City of Salisbury has adopted an innovative systems approach to stormwater harvesting, treatment in wetlands and through managed aquifer recharge with the treated water then reticulated to for non potable use by council, businesses and households throughout the City of Salisbury and beyond.
Under Mayor Aldridge's leadership, the community has embraced the drive for sustainable solutions and highly values the healthy environment, clean waterways and inviting parklands. Ms Aldridge has been the mayor since 2008 and also served as a councillor and deputy mayor since first joining local government in 1988.
"Working for our residents and committing myself to improving the quality of life for all of those who live in our beautiful city is the top of my agenda."
It was during her first year as Mayor that Ms Aldridge established the Watershed Art Prize, which was designed to raise awareness of water as a precious resource and to encourage local artists to explore water conservation and the role it plays in creating a more liveable environment.
ICE WaRM has proudly sponsored the Watershed Art Prize for 10 years and partners with the City of Salisbury to highlight the value of water to the community through art.
The City of Salisbury is acclaimed for actively implementing Australia's first totally integrated water management plan to efficiently harvest and manage systems for rainwater, stormwater, groundwater, recycled waste water and potable water.
The systems approach to water resources management is a regular feature of ICE WaRM's High Level Study tours, Exposure Visits and has been presented in webinars and training programmes.
In celebrating 10 years of Watershed Art Prize, where the winners were displayed at the University of South Australia's Mawson Lakes Campus, The Managing Director of ICE WaRM, Darryl Day, said "the leadership of Mayor Aldridge has inspired the community through art".
"Community support is critical for the sustainable management of water and Mayor Aldridge's approach to community engagement is a "high water mark" providing valuable insights for other communities."
You can learn more about the City of Salisbury's integrated water management plan through the Australian Water School webinar and resources.
2018 Watershed Art Prize Winners
Sponsorship: Watershed Art Prize