HEC-RAS Water Modelling Course: A National and International Group
Thursday, 21 August, 2014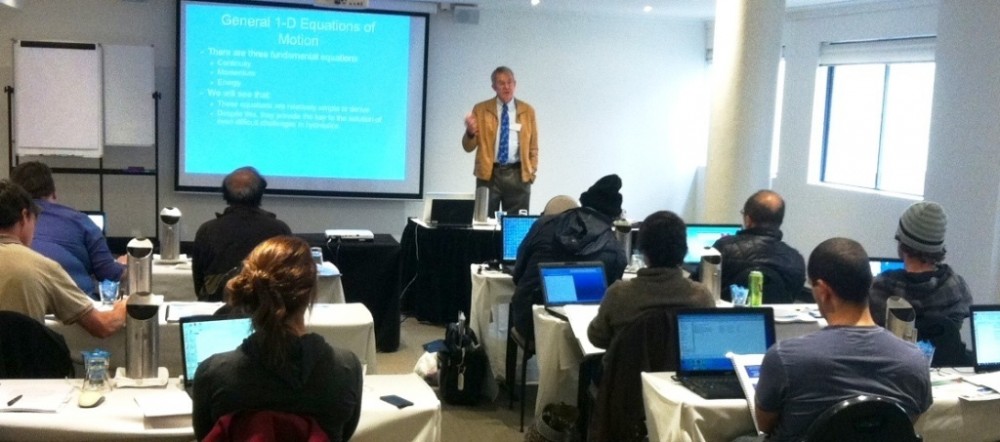 For the second year in a row ICE WaRM organised this successful, highly regarded training course, this time in Sydney.
The course was presented by Dr Robert Keller, a leading HEC-RAS practitioner.
Hydrologic Engineering Centres-River Analysis System (HEC-RAS) is a computer modelling program, primarily used for the computation of water surface profiles in steady and unsteady states and in variable flow situations. It is recognised as an industry standard program and is widely used throughout the world.
Attendees came from across the country and also from Papua New Guinea and New Zealand for this hands-on, two-day course.
With over thirty years of experience in Civil Engineering Hydraulics, Dr Keller presented a highly interactive and relevant course with real life examples, tutorials and discussions.
Attendee feedback:
The best part of the course was the ability to ask questions to the presenter who was very knowledgeable about the subject. Also using the program in a variety of applications.
The course had an easy going and flexible pace. Great trainer, very knowledgeable.
Good hands on approach, thank you for a great course.
In 2015 HEC-RAS will be offered in multiple locations across Australia and at different levels.
Keep an eye out for further information in the coming weeks, or give Joel a call on 08 8236 5208 for more details.
ICE WaRM looks forward to welcoming you then!