Halfway Mark for YRCC Students
Wednesday, 13 May, 2009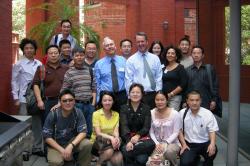 The 19 Yellow River Conservancy Commission (YRCC) staff studying under ICE WaRM's Water Resources Management Programme have reached the halfway point of their seven-month, Adelaide-based course.
The group, identified as future leaders of the YRCC, is now entering the final month of ICE WaRM's Graduate Certificate course in Water Resources Management at the University of South Australia, focusing on global water systems, water resources and society and water resources planning and management.After that, they will take up three-week industry placements and a series of study tours of important Australian water resources – including visits to the mouth of the Murray River and the Snowy River Hydro-Electric scheme, as well meeting officials from the Murray-Darling Basin Authority, the National Water Commission and Sydney Water.
Already, the group has inspected the world-leading City of Salisbury wetlands project, which features innovative ways to preserve and recycle water in a natural environment.
Their studies started at the end of January with four weeks of intensive English language training at the University of South Australia and the group is continuing with weekly English tuition.
YRCC group member Pang Hui says the course will help the Commission address some of its most serious water management issues.
"We are already deeply impressed by the advanced online water monitoring system, the highly efficient water distribution system, the water trading system, the level of wastewater treatment, the high re-use rate of recycled water and the enhanced efforts on water protection," she says.
"Just like the Murray-Darling River basin of Australia, the Yellow River basin is also facing the severe challenge of water shortage.
"At present, many measures have been adopted to improve water resource management in the Yellow River basin. Those measures fall into two categories: increasing available water in the river basin and improving water-use efficiency.
"With reference of Australian experiences, it can be seen improving the water recycling and water re-use rate is also valuable for addressing water shortage issues.
"What is more, improving public awareness will significantly facilitate the implementation of water saving policies and practical water saving."
And as well as significantly developing their knowledge and understanding of water resources management, she says the group is enjoying the Australian lifestyle.
This is the second group from the YRCC to study through ICE WaRM's Professional Development Programme and the course content has been tailored to the specific needs of the Commission staff.
The Yellow River is China's second largest river and plays an important role in the nation's economic development – it serves 12 million hectares of agricultural land and delivers crucial hydro-electric power.