First ICE WaRM Scholarship Students Graduate
Friday, 28 November, 2008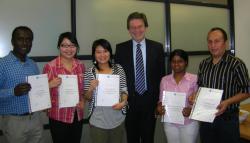 The first five overseas students to be awarded ICE WaRM international scholarships have completed their year-long courses.
The successful students are pictured here with Richard Hopkins (ICE WaRM CEO) at a celebratory BBQ at ICE WaRM's headquarters in Adelaide.
The students – two from China and one each from Sri Lanka, the Solomon Islands and Peru – have been studying ICE WaRM's Master of Water Resources Management programme at the University of South Australia, Flinders University and the University of Adelaide.

Most of the students – who come from a variety of backgrounds including Chemical Engineering, Water Resources Management, Hydrogeology and Civil and Environmental Engineering – are now preparing to return home to forge high-level careers in the water industry.
They all believe the ICE WaRM programme has given them the knowledge and experience to achieve those aspirations. One plans to 'advance and improve the quality of life in my country', while another expects to 'pursue a PhD and work as a lecturer'.
The international scholarship students also are full of praise for the educational and social experience in Adelaide.
They say the educational opportunities in South Australia are 'top quality' with 'excellent' facilities. And they described the social experience as 'amazing', paying tribute to the Adelaide lifestyle and saying it was 'nice and easy to live here, with friendly people and it was easy to study' and 'Adelaide is better to live and study'.
The five international students point to ICE WaRM's Water Resources Management Master programme as the crucial factor in choosing to study in Australia, because it is offered through multiple educational institutions, with an extensive choice of courses and flexibility.
ICE WaRM is also developing a new stream in Water Planning, which will be offered from Semester One 2009 and climate change and sustainability principles also are being incorporated into the existing courses. Domestic scholarships will be available for students enrolled in the Water Planning stream, subject to conditions.
Applications for the next round of ICE WaRM international scholarships are now open until March 2009 (to commence semester two 2009).
Applications for the next round of ICE WaRM domestic scholarships are now open until April 2009 (to commence semester two 2009).