Excellent Review of the Yellow River PDP
Tuesday, 15 December, 2009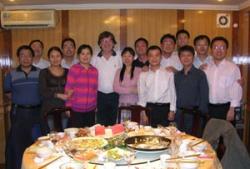 The Yellow River Conservancy Commission (YRCC) has given strong support for ICE WaRM's latest Professional Development Programme which brought 19 of the Commission's emerging leaders to study in Australia for eight months.
Following the return of the 15 men and four women to China in August, an initial evaluation was carried out by five senior YRCC executives – who gave the programme resounding approval.The emerging leaders, the third group from the YRCC to study in Adelaide, completed a one-semester Graduate Certificate academic programme, intensive and continuing English language training, a short industry placement and a 10-day study tour of key water resources sites in Victoria, Canberra, NSW and Queensland.
The Yellow River is a crucial part of China's economic development. It serves 12 million hectares of agricultural land and is the source of important hydro-electric power.