Embracing disruptions to transform the water sector
Tuesday, 15 October, 2019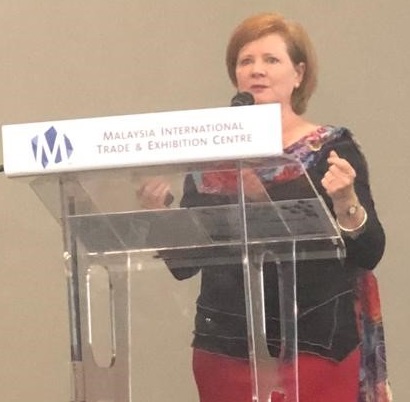 The economic and environmental sustainability of water resource management requires guiding principals that provide for long term planning, and most importantly, the management of water resources beyond political cycles. This is a multidisciplinary, multi-sectoral and often multi-jurisdictional approach.
Speaking to over 500 delegates from 34 countries at the Malaysia International Water Convention 2019, held on 1-3 October in Kuala Lumpur, ICE WaRM Chair, Ms Karlene Maywald, shared Australia's experience in building economic principles into the management of water.
Under the theme "Advancing Innovations, Embracing Transformation & Securing the Future", the convention highlighted the need for water utilities to be future-ready by breaking down resistance to technological innovation and embracing new ways of working. Embracing a broader portfolio of water source options, is key to improving water security and resilience to climate change in Malaysia. The role of groundwater in water security for Kuala Lumpur, the capital of Malaysia, was a topic of intense discussion.
Australia is a global leader in managed aquifer recharge (MAR), from stormwater, treated wastewater and surface water diversion. Adelaide is a highly relevant case for a water sensitive, resilient city, with MAR technology the enabler to achieve over 40% of municipal wastewater in parks and irrigated agriculture and healthy groundwater systems supporting the vibrant urban ecology. Exchange of science, technical knowledge and policy approaches in the management of groundwater, to improve water security and liveability of cities, was identified as a collaborative opportunity through government to government, and amongst research and academic institutions.
Representing South Australia's interest in economic engagement with Malaysia, ICE WaRM supported the South Australian government in Malaysia, as Strategic Adviser International Water Opportunities. The South Australian Department for Environment and Water (DEW) appointed ICE WaRM to provide Strategic Advisory Services to support the water sector, by identifying trade opportunities in international markets and to further develop collaborative networks.
Economic engagement with Malaysia is a primary focus for the South Australian government, with a long history of shared culture and large alumni in education in water and science. The constitutional similarities with shared jurisdictional responsibilities between federal and state governments for water and economic development provide a solid foundation for future collaboration.
Associate Professor, Dr Norhayati Abdullah, Associate Director of UTM International Kuala Lumpur, acknowledges the importance of capacity building and professional development via collaborative work between Universiti Teknologi Malaysia (UTM) and partner universities.
"Comprising of experts in various water and wastewater research, development and innovation programs, UTM, being a portal in Malaysia to international water expertise, looks forward to establishing greater connection and a research network between Malaysia and Australia, with a focus on recognising the importance of the scientific community of the water sector through educational approaches, knowledge transfer and impactful partnership," said Dr Norhayati Abdullah.