Education, Training and Partnership Programmes
Sunday, 3 October, 2010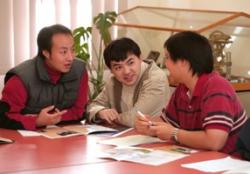 The annual review and refresh of ICE WaRM's education and training is developing into a significant upgrade of the main programmes and their delivery by partner providers.
Preparation for quality assurance and approval procedures are well in hand to ensure the new courses and programmes are delivered from early 2011.The review is part of ICE WaRM's continuous improvement strategy and this year heralds the introduction of new courses and refinements in the delivery of existing programmes.
Among the fresh initiatives will be:
•    fine tuning the multi award-winning post graduate programmes
•    new course options to be finally approved by the ICE WaRM Board of Studies in early December for the nested Master of Water Resources Management programme, expanding and improving content and delivery
•    a new course in Climate Change Adaptation to be offered from 2011
•    additional intensive short courses to meet demands from industry organisations and individual professionals
•    new methods of delivering courses using mixed modes to boost flexibility and efficiency
The programme upgrades are in response to increasing demand for ICE WaRM's courses and build on the partnerships developed over the last six years, particularly with the founding partner universities in Australia and overseas institutions, including existing partners in Europe and Asia. The options for further partner contributions to the offerings are also being canvassed.
A new Professional Development Programme focusing on curriculum development and delivery also is nearing completion and is planned to be available to international partners in south east Asia later this year.
This reflects ICE WaRM's growing international reputation as an educator-of-choice in sustainable water resources management.