Dutch Students Make Flying Visit to Australia
Friday, 18 March, 2011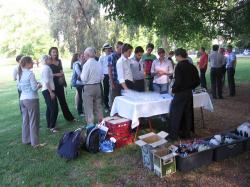 Coinciding with the joint meeting of the ICE WaRM Board of Studies and representatives of the European SWaRM scheme partners, a group of 20 postgraduate students from the University of Leiden and the Technical University of Delft in The Netherlands visited Australia on a two-week study tour.
The group organised the tour themselves, using funds they raised through industry placements and small research projects for industry in Holland.
The students spent the first week of their tour in Sydney, before moving to Adelaide to visit SA Water, the Plant Genomics Centre and focus on the Adelaide region's water use, including precision irrigation in the vineyards of McLaren Vale.
Seven of the 20 students are staying in Australia to take part in the SWaRM exchange programme.