Drainage design for new Indian city nearing completion
Thursday, 18 April, 2019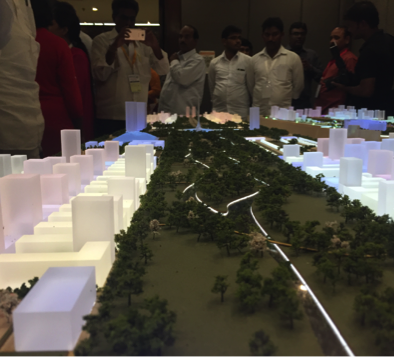 The design of a drainage master plan for the new capital city of Amaravati in the Indian state of Andhra Pradesh, is nearing completion.
The CRC for Water Sensitive Cities (CRCWSC) has been working closely with international consultants Foster and Partners, STX Landscape and others to integrate water sensitive approaches into the design of buildings, streets, open space and flood canals in the Amaravati Government Precinct.
This will provide a treatment train through the city to ensure that the stormwater, which eventually drains to the Krishna River, is clean and poses no threat to water quality.
"This is particularly important as the Krishna River also provides the city with its water supply!" said CRCWSC's National Engagement Manager, Jamie Ewert.
This project is nearing completion, with the CRCWSC soon to run capacity building activities in country to embed the new practices in the local industry.
CRCWSC is looking to partner with ICE WaRM as capacity development provider if the funding can be secured. ICE WaRM has extensive experience in Andhra Pradesh through two Australia Award Fellowship programmes.
Work has also begun on a parallel project in the existing City of Vijayawada, again to improve the health of local canals and waterway using water sensitive practices. This project will continue until late 2019.
Related links
CRCWSC to work on 'once in a lifetime' project to design new Indian city