Darryl Day awarded Water Professional of the Year
Thursday, 16 May, 2019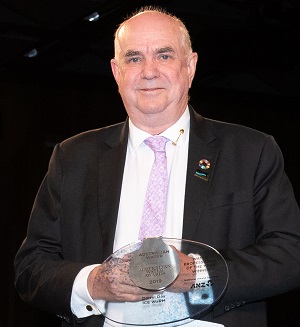 ICE WaRM's Managing Director, Darryl Day has been awarded Water Professional of the Year by the Australian Water Association at last week's Ozwater Gala Dinner in Melbourne.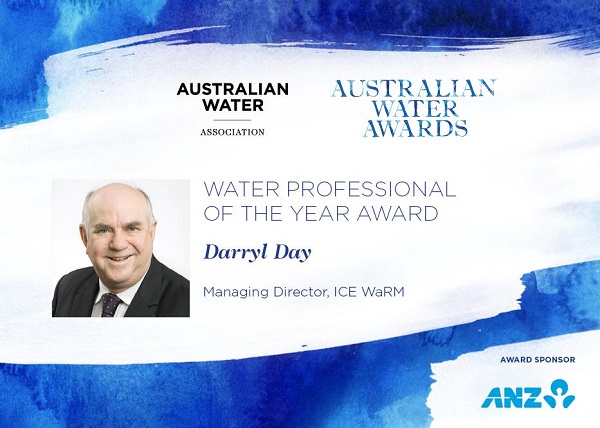 Recognised as an incredible water professional, Darryl has dedicated his life to the water sector, as a committed and passionate participant for nearly 40 years, 35 of which have been in service to the Northern Territory Government. During this time, he has improved the performance of organisations, companies and government departments across the water sector through his transformational leadership style.
Darryl's lifelong passion to address access to sanitation and safe drinking water supplies is evident through the endless time he has devoted to improving the health and wellbeing of Indigenous Australians and some of the Northern Territory's most disadvantaged community members. He has also sponsored the careers and mentored many young professionals most of whom are key contributors to the water and broader sectors today in the Northern Territory, nationally and internationally.
"I would like to thank ICE WaRM's Chair, Karlene Maywald, Deputy Chair, Judith Bradsen and Board directors Rob Skinner, Cynthia Mitchel and Peter Wallbrink, for their mentorship, support and encouragement to raise the national, and global challenge in achieving the SDGs, and empowering water leaders to have the confidence to tackle the challenges of water policy and institutional reform for the sustainable management of water, providing access to safe water and sanitation and the economy of water which underpins food and energy production," said Darryl.
"The opportunity to mentor young professionals has been an inspiration, and provided a sounding board for my own career, and I will be forever grateful to the many mentees who have shared my journey."
As ICE WaRM's Managing Director, Darryl leads the development and implementation of collaborative approaches for capacity development to international organisations in realising the Sustainable Development Goals.
At Ozwater'19 Darryl joined with Suzy Goldsmith from the AWA SDG Specialist Network to present a workshop on partnerships for achieving the SDG's Implementing the Sustainable Development Goals under climate change: New partnerships for transformation which looked at how the water sector can build new partnerships with other non-water sectors that are facing challenges related to water and climate change. Darryl & Suzy also presented a paper at Ozwater'19 on Stretching the Sustainable Development Goals: Capacity Building for the Australian Water Profession.
Celebrating the sector's finest at the 2019 Australian Water Awards
https://watersource.awa.asn.au/technology/innovation/celebrating-the-sectors-finest-at-the-2019-australian-water-awards