Colourful Winner for Watershed Art Prize
Tuesday, 1 June, 2010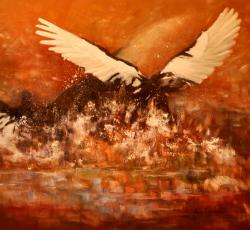 South Australian artist, Hans Koppan, has won the 2010 Watershed Art Prize, heading a field of 78 entries from across South Australia. His winning entry,Touch Down (pictured), is an oil on canvas piece.
The judging panel included Councillor Jana Isemonger,representing the Mayor of Salisbury Gillian Aldridge, ICE WaRM Chief Executive Richard Hopkins and Russell Starke OAM, Director of Greenhill Galleries.An exhibition of the works entered in the competition opened at the John Harvey Gallery in Salisbury on April 29 and ran until May 28.
The Watershed Art Prize is an initiative of the City of Salisbury to boost public awareness of sustainable water resources management. The Prize is named after the Watershed Sustainability Centre in the Greenfields Wetlands, which showcases innovative water management and promotes education in wetland biodiversity and water sustainability.
It's the second year ICE WaRM has been a primary sponsor of the Art Prize and at the exhibition opening, Richard Hopkins emphasised the important role the Watershed plays as an education centre for water sustainability.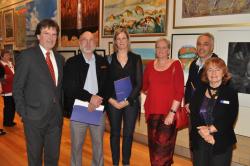 Group photo shows, left to right: Richard Hopkins – CEO ICE WaRM, Hans Koppan- 1st prize winner, Katie Wyatt- Highly Commended, Alli Symons- 3rd prize winner, David Carletti- 2nd prize winner and Jana Isemonger- Councillor of the City of Salisbury Council.