Balancing the social, environmental and financial demands in unconventional gas extraction
Wednesday, 20 March, 2019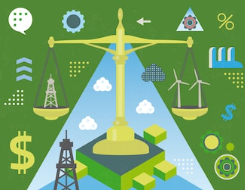 There has been much discussion about Australia's looming domestic gas shortage and current coal seam gas operations on the east coast are now preparing for closure resulting from 'over-ambitious estimates of reserves.'
Some view that further exploration and extraction from other states including the Northern Territory, would help to satisfy domestic demand and keep prices down. Others would prefer to see restrictions on gas exports rather than, in the case of coal seam gas, develop on prime agricultural land.
As moratoriums begin to lift and new gas extraction licences are approved, it is even more pressing that a balanced approach, involving stakeholder engagement and an improved understanding of how the surface water and groundwater of the water cycle interacts with the unconventional gas extraction, be considered.
In response to this challenge and the interest in sustainably managing water for fracking and extraction, ICE WaRM, in partnership with Arris Water and the National Centre for Groundwater Research and Training (NCGRT), have developed a new series of live and interactive, online courses with expert presenters covering unconventional gas occurrence, extraction, water treatment technologies and recycling opportunities, policy and regulation, and stakeholder engagement.
Such expansion in unconventional gas exploration and extraction also calls for improved water management guidelines and innovative technologies to protect our water resources and the environment, and meet the growing energy needs related to a growing population.
"There is a need for a risk management framework for assessing the benefits vs the consequences of extracting the unconventional gas resources." says Emeritus Professor Peter Flood, geologist and advisor to Northern Territory Fracking Inquiry.
The series of 3 courses will discuss all aspects of the exploration, development, extraction, transport of the produced gas as well as the various State and Commonwealth regulatory conditions and both social and environmental impacts.
It will also cover water usage, treatment challenges, fit-for-purpose water recycling, and the impacts on the both surface and underground environmental water and will be of interest to all stakeholders involved in the unconventional gas industry.
"The water cycle is intricately linked to the extraction of unconventional gas." says Ben Kele, Director of Arris Water.
"The sustainable management of water in the gas industry requires a scientific approach based upon risk management."
The first course includes valuable information for engineers, consultants or petroleum and gas companies to improve their understanding of the environmental approval process under a state legislation.
All steps of the process will be detailed with the example of a gas field development in Queensland, with particular emphasis on the regulatory aspects, data collection, information required and timeframe to submit the EA application.
See below for more information about this series of online courses.
Online Course Series
Unconventional Gas – Sustainable Water Management
Online Course 1: Water and the Industry (3hrs) – 4 April 2019
Online Course 2: Water treatment and Recycling (3hrs) – 11 April 2019
Online Course 3: Policy and Regulation (3hrs) – 18 April 2019