Australian water expertise showcased through Australia Awards programme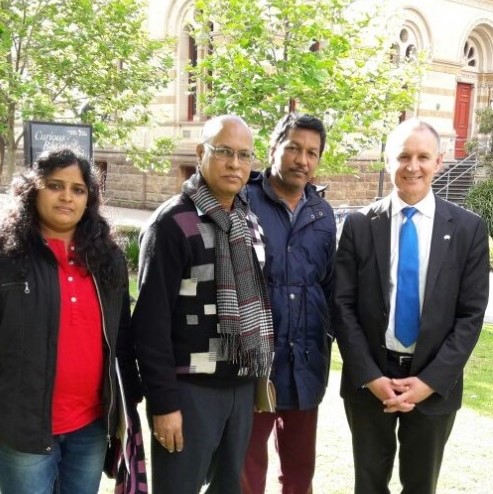 The International Centre of Excellence in Water Resources Management (ICE WaRM) provided a capacity-building programme for 15 mid-level managers from the Indian states of Andhra Pradesh and Telangana in Australia from 14 October 2016 to 4 November 2016, with a follow-up programme in India conducted from 21 to 23 November 2016. The programme was an Australia Awards Fellowship funded by the Department of Foreign Affairs and Trade (DFAT).
The state of Andhra Pradesh has divided into two new states, Andhra Pradesh and Telangana which has created new transboundary water management issues that must be urgently addressed by the new states, and with which Australia is uniquely placed to assist. In India, as in Australia, water management is a state issue.
The programme directly addressed thematic priorities of Australia's aid program, and brought together mid-career professionals in leadership positions from across the two states as well as professionals from the capacity-building institution, Water and Land Management Training Institute (WALAMTARI), with which ICE WaRM already has a strong and deepening relationship.
The programme engaged with the cultural complexities of the governance of water resources in a transboundary context, promoting exchange across boundaries.
Rama Krishna Murty Putrevu, Chief Engineer at the Andhra Pradesh Water Resources Department, said he hopes to implement some of the excellent water management examples he was exposed to during the programme.
"In the international water sphere collaboration is required for an amicable solution," Mr Putrevu said.
"In Andhra Pradesh and Telangana we are at the stage of sharing water resources on a common boundary. The Australian experience will put us on track to have a cooperative approach to sharing our water resources and solving associated issues."
Deputy Director of the Ground Water Department for the Government of Andhra Pradesh, Srinivasu Nalluri, said the way in which Australia regulates its water extraction was admirable.
"Regulating water extraction is very important," Mr Nalluri said. "In Australia there is allocation, monitoring, assessment and regulation – these principles impressed us and we would like to implement a similar system in India as our groundwater levels are depleting."
During their time in Australia the delegates were also provided with field demonstrations of Managed Aquifer Recharge (MAR).
"Allocating some water for aquifer management and aquifer maintenance is admirable and it's underdeveloped in India," Mr Putrevu said.
"In Australia, we had a lot of interaction with experts and we exchanged a lot of thoughts. They appreciated our water resource management practices, and we have now been exposed to Australian practices. We look forward to further interactions and bringing the knowledge we acquired back to India."