Andrew Johnson recognised for outstanding leadership in SA water sector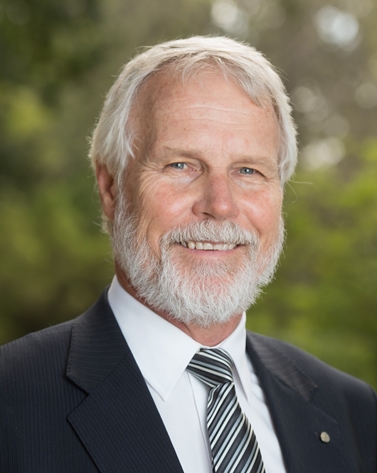 South Australian water industry stalwart, Andrew Johnson PSM, has been awarded the SA Water Leadership Award at this year's Water Industry Alliance (WIA) Smart Water Awards.
Andrew has over 40 years' experience in natural resource, water and environmental management working in environmental impact assessment, soil conservation and land management, landcare, dryland salinity, water policy, flood hazard management, industry and community development, and legislative reform.
In recent years he has provided program and project management responsibilities for a range of major NRM and River Murray works and industry reform initiatives. During his career with Primary Industry and Regions South Australia (PIRSA) he was a member of a wide range of state and national statutory and advisory committees and was responsible for negotiating major funding agreements with the Commonwealth.
Although unable to collect his award in person, Andrew used his acceptance speech, delivered on his behalf by Ben Fee, to challenge the South Australian water industry to further establish and grow the use of its expertise internationally.
"The expertise and capability of the water industry in South Australia is certainly a real opportunity for the state," he said. "Having represented SA and its expertise over the last 18 months in countries such as Nepal, India and China it is pleasing to note that we are held in high regard. Our expertise is world-leading and we need to develop a process or mechanism that will enable us to capture this interest and turn it into real economic development and jobs for the state."
As Executive Sector Specialist with the International Centre of Excellence in Water Resources Management (ICE WaRM) Andrew travels extensively overseas to Nepal and India advising on water resources capacity building and water management initiatives.
ICE WaRM Managing Director Darryl Day said Andrew is extraordinary as a mentor and confident in international development.
"With 40 years of experience to draw from in integrated water resource management, Andrew is able to ask questions that explore the big picture, identify future scenarios, challenges and opportunities," he said. "Andrew provides confidence to creating an aspirational future and supporting individuals on the journey to that future."
The 2017 Smart Water Awards Ceremony took place on Friday 7th July at the Adelaide Convention Centre to celebrate the successes and achievements of the South Australian water industry.
The Leadership Award is presented to a person deemed to have made a major contribution to the South Australian water sector either through their leadership, actions or implementation of significant water related programs that have benefited the industry, community and or environment.
Past winners include:
2016 Tim Waterhouse
2015 Dr Peter Dillon
2014 Hon. Karlene Maywald
2013 Richard Hopkins
2012 Karsten Pedersen
2011 Mike Terlet AO
2010 Professor Angus Simpson & Professor Graeme Dandy
The judges commented that "Andrew is an inspiring and fearless public service leader, with significant large scale projects to his credit. Andrew has made a significant and sustained contribution across the Water sector at State, National and International levels in all three areas of the triple bottom line.  Many of the contributions he has made continue to deliver positive outcomes well after the time he delivered them."