MOU With AISECT University, Bhopal India
Friday, 19 December, 2014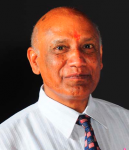 ICE WaRM has signed a Memorandum of Understanding (MOU) with the Bhopal-based AISECT University establishing collaboration on a range of water resources management  issues.
The agreement was signed during a visit to Adelaide by Dr RN Yadava, a leading academic at the Indian university.

Dr Yadava is Professor and Director of Research and Development at AISECT University. He is also the Chairman of Environment Management & Human Welfare Council at AISECT.
Below are some of the newspaper articles from India that announced the MOU: