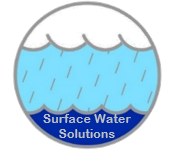 Short Course: HEC-RAS 5.0.5 Training in Munich
View 2D Water Modelling with HEC-RAS Course March 2019
Work with European case studies using the latest version of HEC-RAS
In this intensive 1D/2D modelling course, you will learn to build, run, interpret, troubleshoot and animate flood models from the very start. This course is run in association with Surface Water Solutions.
Date: Monday, 24 September 2018 - Tuesday, 25 September 2018
Location: Munich
Cost: €600, academic, group, and professional membership discounts available
Contact: hec-ras@surfacewater.biz
Register your interest: https://awschool.com.au/training/short-course-hec-ras-5-0-5-training-in-munich/
Presenters:
Surface Water Solutions
Educated at the University of California at Berkeley, Krey is a civil engineer and project manager with international experience in water resources. He is engaged in computational modelling, engineeri...
Read more
Details:
Brought to you by:

Registrations are now open for the first HEC-RAS course in Germany, which will be held in Munich on Monday 24 September and Tuesday 25 September 2018.
Learn to build, run, interpret, troubleshoot, and animate flood models from scratch in this intensive, interactive training course.
Why not learn what's new in HEC-RAS while enjoying Oktoberfest?
The course includes all new European case studies for this HEC-RAS 1D/2D modelling course, including direct rainfall/rain on grid, and urban and coastal flooding, hydraulic structures, GIS interfacing, and terrain manipulation within HEC-RAS.
Presentations will be taught in English to accommodate international attendees; the course instructor, Krey Price, speaks fluent German and can provide individual workshop assistance in German.
Each day's course runs from 9:00 to 17:00.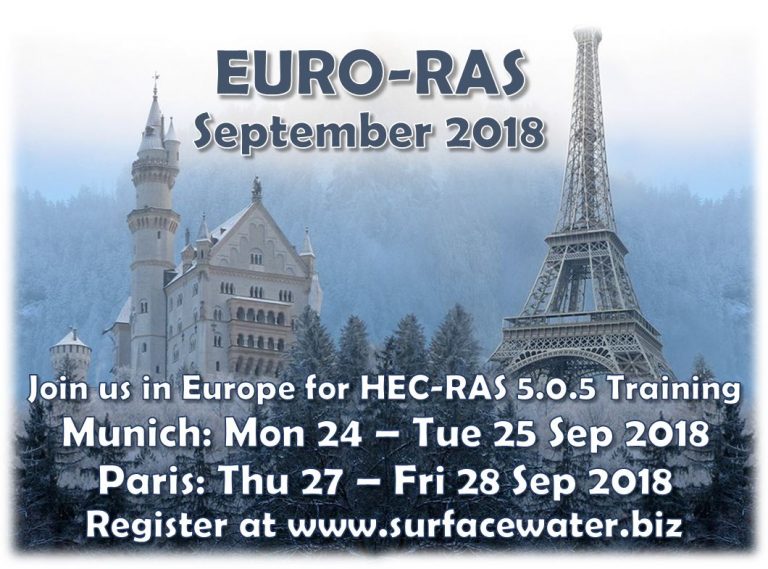 Munich HEC-RAS 5.0 Course Outline
---
DAY 1: Monday 24 September 2018
| | |
| --- | --- |
| 9:00 – 9:15 | Administrative and introductions |
| 9:15 – 9:30 | Overview and animation demonstration |
| 9:30 – 10:00 | Lecture: 1D vs 2D Theory |
| 10:00 – 10:30 | Lecture: RAS Mapper and GIS interfacing |
| 10:30 – 10:45 | Morning Break |
| 10:45 – 11:45 | Workshop: Importing terrain files |
| 12:45 – 12:30 | Lecture: Computational mesh generation |
| 12:30 – 13:00 | Lunch break |
| 13:00 – 14:00 | Workshop: Creating 2D areas |
| 14:00 – 14:45 | Lecture: Hydrologic boundary conditions |
| 14:45 – 15:15 | Lecture: Time step selection |
| 15:15 – 15:30 | Afternoon Break |
| 15:30 – 16:30 | Workshop: Entering unsteady flow data |
| 16:30 – 17:00 | Lecture: Computational options |
DAY 2: Tuesday 25 September 2018

| | |
| --- | --- |
| 9:00 – 9:30 | Lecture: Adding internal structures |
| 9:30 – 10:00 | Workshop: Running a model with structures |
| 10:00 – 10:30 | Lecture: Dams and lateral weirs |
| 10:30 – 10:45 | Morning Break |
| 10:45 – 11:45 | Workshop: Simulating a dam/levee breach |
| 11:45 – 12:30 | Lecture: Viewing and exporting in RAS Mapper |
| 12:30 – 13:00 | Lunch break |
| 13:00 – 13:30 | Lecture: Troubleshooting steps |
| 13:30 – 14:30 | Workshop: Troubleshooting models |
| 14:30 – 15:00 | Lecture: Model Calibration |
| 15:00 – 15:15 | Afternoon Break |
| 15:15 – 15:45 | Lecture: Benchmarking HEC-RAS vs. other models |
| 15:45 – 17:00 | Workshop: Building your own model from scratch |
---