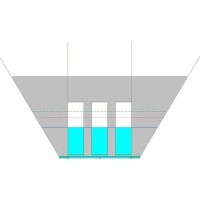 Online Course: Water Modelling with HEC-RAS (1D)
1D Online Course, February 2019
Live and Interactive: Use RAS Mapper to build 1D models in version 5.0.5
Master the powerful features of the newly released HEC-RAS version 5.0.5!
You will build 1D models entirely within RAS Mapper, without requiring third-party software.

These interactive, mentoring sessions provide a unique opportunity to ask questions specific to your own models. Your presenter, Krey Price, is a highly experienced HEC-RAS user with extensive software development and lecturing experience. His career includes 15 years of developing hydraulic models for the U.S. Army Corps of Engineers.

Places limited to 20 people to allow for greater interaction, register quickly to secure your place in the course! The course is delivered as 2 live and interactive sessions of 2 hours, over a two week period.
Date: Wednesday, 27 June 2018 - Wednesday, 4 July 2018
Time: 10:30am (Australia/Adelaide; find your local time)
Contact: Joel Voortman
Register your interest: https://awschool.com.au/training/online-hec-ras-1d/
Presenters:
Surface Water Solutions
Educated at the University of California at Berkeley, Krey is a civil engineer and project manager with international experience in water resources. He is engaged in computational modelling, engineeri...
Read more
Details:
When: Wed 27 June & Wed 4 July (10:30 – 12.30)
Delivery: 2 live and interactive sessions of 2 hours, over a two week period.
Preparation: Pre course reading and video watching is required. There is also an opportunity to tailor the sessions to your direct questions via the initial survey. After the first week you will be given an assignment exercise to complete, prior to the next session.
Requirements: A good internet connection and the latest version of HEC-RAS 5.0.5.
Download here
Content: This course consists of interactive, training and mentoring sessions. Krey will step you through the building of a flood model using RAS Mapper. You will then run, animate, interpret and troubleshoot your model.
Topics covered include:
Setting up RAS Mapper
Adding alignments
Adding bank lines
Adding Cross-Section locations
Adding spacially varying roughness
Generating 1D HEC-RAD Geometry File from RAS Mapper
Viewing 1D results in RAS Mapper
Outcome: On completion of the course attendees will be issued with a Certificate of Participation.
Register now for the next Online Course
---