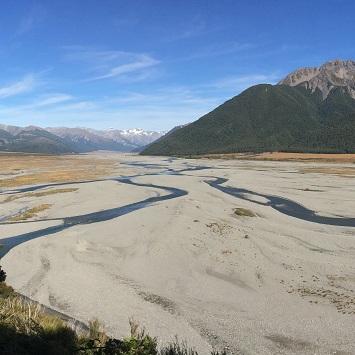 Online Course: Sediment Transport Modelling
Using HEC-RAS to predict sediment loads.
This course works through setting up a sediment transport model in HEC-RAS, performing the simulation, and interpreting results together. This is a hands-on guided workshop format addressing a range of sediment transport modelling topics.

After this training you will have a good understanding of the following:
1. Typical applications of sediment transport models.
2. Input data required to perform sediment transport modelling.
3. HEC-RAS model capabilities and limitations.

Engaging with presenters of this calibre will be valuable professional development for engineers, planners, geomorphologists, modellers, and others working around rivers and reservoirs.
Date: Tuesday, 22 October 2019 - Thursday, 31 October 2019
Time: 10:30am (Australia/Sydney; find your local time)
Format: This training will be offered live-online, in 2 sessions
Cost: AUD$295 (about $200 US dollars)
Contact: Joel Voortman
Register your interest: https://awschool.com.au/training/online-course-sediment-transport-modelling/
Presenters:
WEST Consultants, Inc.
Martin has over 30 years of experience in water resources engineering and leads the San Diego office of WEST Consultants, Inc. He is a registered civil engineer in multiple states, a Diplomate of the ...
Read more
Surface Water Solutions
Educated at the University of California at Berkeley, Krey is a civil engineer and project manager with international experience in water resources. He is engaged in computational modelling, engineeri...
Read more
Details:
Content and delivery
The course starts with a basic hydraulic model of a rectangular flume such a you might find in any hydraulics lab.
You will then enter various sediment and hydrologic inputs necessary to run this as a sediment transport model, going over some of the different options in the program.
Execute the model and go through the different ways to examine and interpret the results.
Add complications by using "real" river cross sections.
Some of the more advanced features and optional capabilities of HEC-RAS will be demonstrated.
Being live and interactive sessions, questions and comments are encouraged and interspersed throughout both sessions.
Format
The course is delivered in 10 units via the learning platform
2 live and interactive sessions of 2 hours over two weeks:
– Tuesday, 22 October, 10:30am (Sydney Time)
– Thursday, 31 October, 10:30am (Sydney Time)
Sessions are recorded & uploaded to the learning platform (within 24hrs after session), if you cannot attend live.
Pre-and-post-course materials to read through via the learning platform.
Preparation: Pre-course reading and video watching is encouraged. There is also an opportunity to tailor the sessions to your direct questions via the initial survey. After the first week you will be given some exercises to complete, prior to the next session.
Background
Eroding rivers and sediment-filled reservoirs pose an increasing threat to lives, environment, and infrastructure around the world.
Join us in this online training where we'll cover the challenges and opportunities associated with mobile-bed hydraulic modelling, which has the potential to allow the prediction and mitigation of impacts associated with sediment movement.
Image Acknowledgement:
Lake Ayakum, Tibet
Date 25 April 2011
Source NASA Earth Observatory
Author ISS Expedition 27 crew
---