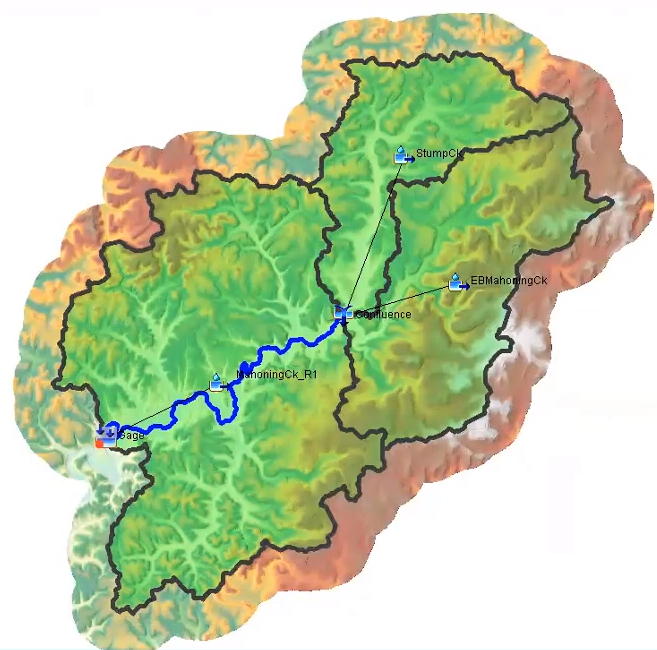 Online Course: HEC-HMS Modelling
View upcoming course for this topic
Use hydrological data to provide realistic simulations of the rainfall-runoff process
The Hydrologic Modeling System (HEC-HMS) is a free program developed by the U.S. Army Corps of Engineers. HEC-HMS simulates the complete hydrologic processes of dendritic watershed systems including infiltration, unit hydrographs, and hydrologic routing. Applicable and designed for almost all regions of the world, HEC-HMS offers flexibility so that each hydrologic process has multiple modelling techniques to create a fully customised end model.

This live and interactive course will introduce the purpose, features and limitations of HEC-HMS, by running and creating a basic model case study, with your expert presenter describing the software structure and menus of HEC-HMS.

Date: Thursday, 7 November 2019 - Thursday, 14 November 2019
Time: 10:30am (Australia/Sydney; find your local time)
Cost: AUD$295 (about $200 US dollars)
Contact: Joel Voortman
Register your interest: https://awschool.com.au/training/online-course-hec-hms-modelling/
Presenters:
Golovin
Steven has over 34 years experience in developing, utilising and managing water modelling projects. He completed a Ph.D in Computational Hydraulics in 1988 and went to London to work for one of the "B...
Read more
Surface Water Solutions
Educated at the University of California at Berkeley, Krey is a civil engineer and project manager with international experience in water resources. He is engaged in computational modelling, engineeri...
Read more
Details:
Please join us for this interactive online course (see dates below), covering HEC-HMS, a free rainfall-runoff program developed by the U.S. Army Corps of Engineers. HEC-HMS also accounts for evapo-transpiration, snowmelt, and soil moisture and can be used in conjunction with other software for studies of water availability, urban drainage, flow forecasting, urbanisation impacts, reservoir spillway design, flood damage reduction, floodplain regulation, and systems operation.
Course Format: 
2 live and interactive sessions of two hours each
Thursday, 7 November, 10:30am -12.30pm (Sydney Time)
Thursday, 14 November, 10:30am – 12.30pm (Sydney Time)
Sessions are recorded & uploaded to the learning platform (within 24hrs after session) if you cannot attend live.
Session 1, Thursday, 7 November, 10:30am -12.30pm (Sydney Time)
Background to HEC-HMS

software

– what can it do and limitations
Explain the software structure, where to find menus, input data, run model and read the results.
Develop a simple case study to demonstrate from the beginning to end how to generate a flow hydrograph for multiple basins and extract them to reports or to other software for hydraulics or similar.
Homework to complete before session 2. Follow the recording for review of session 1.
Session 2, Thursday, 14 November, 10:30am – 12.30pm (Sydney Time)
Discuss any issues faced from homework case study or session one.
Explain some advanced menus and elements to utilise features such as storage ponds, soakage losses and pipes.
Further develop a case study to include features to do after the session.
A short quiz will be on the learning platform, to cement attendees understanding.
This course covers:
Overview of Precipitation-Runoff Processes
Rainfall Loss Rates Computation
Channel Routing
Basin Model Manager
Meteorologic Model Manager
Control specifications and time-series data
Conducting simulation runs
Data interpretation and calibration
Exporting results for use in HEC-RAS
Outcome: On completion of the course attendees will be issued with a Certificate of Participation.
For more information on HEC-HMS features, downloads and documentation, go to the US Army Corps of Engineers website: hec.usace.army.mil/software/hec-hms
---