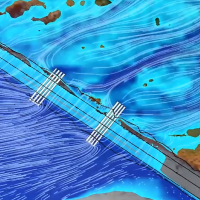 On-demand: Modelling structures in HEC-RAS
Water modelling for bridges and culverts
Take sessions anytime, at your own pace with unlimited course access for 30-days. This course covers the incorporation of bridges and culverts into 1D, 2D, and coupled 1D/2D HEC-RAS models.

Learn how to build bridges and culverts into your HEC-RAS model alongside your presenter, Krey Price. Krey is a highly experienced HEC-RAS user with extensive software development and lecturing experience whose career includes 15 years of developing hydraulic models for the U.S. Army Corps of Engineers.
Cost: AUD$295 (includes GST)
Contact: Joel Voortman
Register your interest: https://awschool.com.au/training/on-demand-structures-in-hec-ras/
Presenters:
Surface Water Solutions
Educated at the University of California at Berkeley, Krey is a civil engineer and project manager with international experience in water resources. He is engaged in computational modelling, engineeri...
Read more
Details:
Topics covered in the course include:
Background theory: Energy vs momentum for low flow, pressure flow, and weir flow
The HDS5 approach for culvert design
Background theory: Delineating appropriate upstream and downstream 1D cross sections
Estimating flow separation and expansion/contraction zones for coefficients and ineffective flow areas
Entering bridge geometry for deck, abutments, and piers
Linking a 1D bridge reaches to 2D flow areas
Entering bridges and culverts as internal connections in 2D Flow Areas
Introduction to bridge scour for piers and abutments
Course Format: 
Delivered via a learning platform, through a series of 29 units and includes over 18 short video steps while you develop an understanding of the software and demonstrate its key features and limitations.
Includes pre-and-post-course materials to go through via the learning platform.
Exercises via a 40 page training manual.
Requirements: A good internet connection and the latest version of HEC-RAS. Download here
Completion: On completion of the course attendees will be issued with a Certificate of Participation.