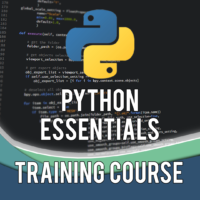 Live Course: Python essentials for water II
Develop confidence in the powerful programming language Python.
AUGUST COURSE FULL - RERUN IN OCTOBER- register below!

(Course code: LC-22-3-064)

Python has become part of the toolbox of scientists and engineers, and has numerous applications in hydrology. By mastering Python, you are able to extend data analysis and modelling capabilities far beyond what is possible with spreadsheets, GIS platforms and other standard software.

This course is intended for anyone working in the water sector, that has no or very limited experience with Python. In three sessions, you will learn the basics of Python and be provided an overview of its most important libraries. The course will give you the confidence to create basic programs to process hydrological data and calculations. Join us to make Python a part of your professional toolbox!

All sessions will be held 3:00pm – 5:00pm (Sydney Time, 2 hours per session)

Session 1: Thursday 18th August
Session 2: Thursday 25th August
Session 3: Thursday 1st September
Date: Thursday, 18 August 2022 - Thursday, 1 September 2022
Time: 3:00pm (Australia/Adelaide; find your local time)
Location: Online
Cost: Early bird rate - AUD$495.00 (INC GST) closes 3rd August 2022
Enter voucher code at checkout: (Early-Bird-Rate-LC-22-3-064)
Full fee $595.00 (INC GST)
Contact: training@awschool.com.au
Register your interest: https://awschool.com.au/training/live-course-python-essentials-for-water-ii/
Presenters:
Edinsi Groundwater & Flinders University
Vincent is a hydrogeologist with over 10 years of experience in Python programming. He uses it on a daily basis for many if not all of his tasks, such as working with logger data, preparation of model...
Read more
Flinders University
Cristina completed her first degree in Civil Engineering in Honduras, which neighbours her birth country of El Salvador. In 2000, she emigrated to Barcelona, Spain, where she worked as a hydraulics en...
Read more
Details:
In this course, you will be able to;
Gain basic command of the Python programming language
Ability to work with arrays and dataframes
Process spreadsheet and GIS data
Perform hydrological calculations
Visualise data and model results in graphs
Be introduced to pandas, NumPy, Matplotlib, SciPy
See Jupyter and Anaconda scripting demonstrated
Schedule Outline
Session 1: Thursday 18th August, 3:00pm – 5:00pm (Sydney Time)
Things you need to get started with Python
Basics of Python and useful packages
First steps: Python language and simple scripts
Session 2: Thursday 25th August, 3:00pm – 5:00pm (Sydney Time)
Working with arrays and dataframes
Loading, viewing and analysing data
Statistics and curve fitting
Session 3: Thursday 1st September, 3:00pm – 5:00pm (Sydney Time)
Working with time series and geospatial data
Interfacing with GIS software
Create stunning graphs and animations
Format
6+ hours of session recordings with unlimited access for 30-days after the last live session;
Pre-and-post-course materials to go through via the AWS learning platform;
Exercises between the 3 sessions;
Manual of the course and working model download/s;
Ability to ask questions to the presenters at anytime live and through the learning platform;
Attendees earn CPD hours/points (ie with Engineers Australia) for at least 12 hours for the entire course.
Requirements
A good internet connection and software and downloads as described in the learning platform.
Outcome
On completion of the course, attendees will be issued with a Certificate of Participation.
Enter discount code at checkout: Early-Bird-Rate-LC-22-3-064