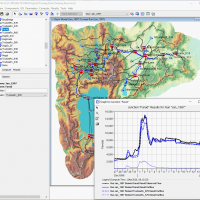 Live course: New HEC-HMS GIS features
Rainfall runoff modelling in HEC-HMS
Learn about the long awaited GIS functions in the new version 4.5.
Attend this course only or combine with the course: Rainfall runoff modelling in HEC-HMS and save $100.

This 2-hour live and interactive course is intended for both experienced and beginner HMS users who want to build an understanding of the new GIS tools. The course will cover "what's new" and the basics of creating a geo-referenced basin model in HEC-HMS. With your presenter you will step through an exercise where you build a basin model with catchment delineation tools that are now provided directly within HEC-HMS.
Date: Thursday, 3 September 2020
Time: 10:00am (Australia/Sydney; find your local time)
Format: 2hr live and interactive course
Cost: AUD$195 (includes GST) or combine with the full HEC-HMS course and save $100
Contact: Joel Voortman
Register your interest: https://awschool.com.au/training/live-course-hec-hms-new-version/
Presenters:
Surface Water Solutions
Educated at the University of California at Berkeley, Krey is a civil engineer and project manager with international experience in water resources. He is engaged in computational modelling, engineeri...
Read more
Golovin
Steven has over 34 years experience in developing, utilising and managing water modelling projects. He completed a Ph.D in Computational Hydraulics in 1988 and went to London to work for one of the "B...
Read more
Details:
The integrated GIS tools allow you to create a basin model from a digital elevation model. After assigning a terrain data component to a basin model, you can now apply tools to remove sinks, compute flow direction and accumulation, identify streams by drainage area, define break points, and finally, delineate a full catchment. Once the catchment has been delineated, you also have tools to merge and split sub-basins and reach elements.
This course is designed with:
8 units to complete via this learning platform
Live and interactive session of 2 hours
Pre-and-post-course materials to go through via this learning platform,
Exercise to follow through- via a training manual
Course Contents:
Pre-course Preparation, download and install software
Pre-course Preparation, pre-course survey
Watch the introductory webinars and complete course pre-reading
Live session: Thursday 3rd September 2020, 10-12pm (Sydney Time) Recorded and uploaded to this unit within 24hrs after the session.
Exercise
Exercise questions or comments
Final Feedback
Quiz (complete to receive your certificate)
---