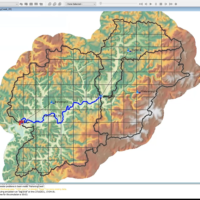 Live course: HEC-HMS Essentials
Learn about data wrangling, GIS delineations, and model setup
(Course code: LC-21-3-030)

This 3 part-series of live and interactive course is intended for both experienced and beginner HMS users who want to build an understanding of the new GIS tools. The course will cover data wrangling, GIS delineations, and model setup.

All sessions will be held 9:00am – 12.00pm (Sydney Time, 3 hours per session)

Session 1, Tuesday, 2 Nov: Covering data wrangling, GIS delineations, and model setup
Session 2, Tuesday, 9 Nov: Covering the application of gridded rainfall, loss sensitivities, interpreting and calibrating results
Session 3, Tuesday, 16 Nov: Covering the application of Australian Rainfall and Runoff in HEC-HMS using Storm Injector (temporary license provided)

Date: Tuesday, 2 November 2021 - Tuesday, 16 November 2021
Time: 9:00am (Australia/Sydney; find your local time)
Format: x3, 3-hour live and interactive sessions, over 3 weeks via the AWS learning platform
Cost: AUD$595 (includes GST)
Contact: training@awschool.com.au
Register your interest: https://awschool.com.au/training/live-course-hec-hms-essentials/
Presenters:
Resources:
Details:
This course is designed to be highly practical, with 9+ hours of training session recordings.
Course Contents
The course will cover 3 main topics across 3 parts.
Session 1 | Nov 2, 9am – 12pm (Sydney time)
Introduction to HEC program architecture and overview of HEC-HMS program structure
Overview of the HEC-DSS data storage system, and how HEC programs interact with it.
Downloading and preparing terrain data for HEC-HMS and using HEC-HMS catchment delineation tools to create a hydrological model
Downloading and preparing meteorological data for HEC-HMS
Creating and computing a simulation run
Viewing model results
Session 2 | Nov 9, 9am – 12pm (Sydney time)
Downloading and preparing observed, gauge data
Applying gauge data to the hydrological model
Calibration using HEC-HMS parameter optimisation for storm events
Calibration using long term continuous simulation and flood frequency analysis using HEC-SSP
Overview of parameters (loss, transform, reach-routing)
Sensitivity analysis using HEC-HMS Monte-Carlo
Session 3 | Nov 16, 9am – 12pm (Sydney time)
Downloading and preparing gridded rainfall data for an Australian catchment
Using ARR gridded data within HEC-HMS
Brief introduction to Storm Injector by Catchment Simulation Solutions for ARR 2019

Importing basin model into Storm Injector
Downloading point and gridded ARR 2019 data
Computing peak flow, volume, and time to peak
Interpreting box charts for adopted temporal pattern and critical duration
Plotting hydrographs and rainfall hyetographs
Post storm-injector modifications to hydrological model
Format
9+ hours of session recordings with unlimited access for 30-days after the last live session.
Pre-and-post-course materials to go through via the learning platform.
Exercises between the 3 parts.
Manual of the course and working model download/s.
Ability to ask questions to the presenters at anytime through the learning platform;
PDF manual of the course. The manual is recommended for ongoing use;
Any working models/ software's necessary as per instructions in individual course, downloaded from the learning platform before starting the session recordings;
Some courses have Exercises / homework to complete between courses;
Pre-reading and viewing materials;
Attendees earn CPD hours/points (ie with Engineers Australia) for at least 14 hours for the entire course.
Preparation and Pre-requisites
Students must have installed the following on their computers in advance of the course

HEC-HMS Version 4.8
HEC-DSSVue Version 3.2.2
HEC-SSP Version 2.2
Storm Injector free temporary Licence

It is advisable to have installed a GIS program; we recommend QGIS
Course notes and data for examples will be provided during the course
Requirements
A good internet connection and software and downloads as described in the learning platform.
Outcome
On completion of the course attendees will be issued with a Certificate of Participation.