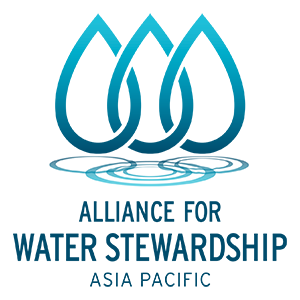 Online Course: Foundations of Water Stewardship
What is water stewardship and how do you implement it?
Become acquainted with the principles of water stewardship and its framework, the Alliance for Water Stewardship (AWS) Standard v2.0. This live and interactive course will demonstrate how this innovative approach can support diverse water management goals and sustainability objectives.

This course is relevant to a broad audience of sustainability professionals, water users (agricultural, industrial and commercial), the water and wastewater industry, advocacy groups and the public sector. You are encouraged to attend this course if you are a company interested in implementing water stewardship and/or attaining AWS certification for your site.

Discount codes are available for AWS Asia-Pacific members. Please contact Lisa Idris for more information.
Date: Tuesday, 18 June 2019 - Tuesday, 25 June 2019
Time: 12:00pm (Australia/Sydney; find your local time)
Location: Online: Two sessions of three hours
Cost: Cost: $500 (non-AWS Asia-Pacific members) | $450 (AWS Asia-Pacific Members)
Contact: Lisa Idris
Register your interest: https://awschool.com.au/training/foundations-of-water-stewardship/
Presenters:
A hydrogeologist by training, Megan is the Chief Operating Officer and Technical Manager of the Alliance for Water Stewardship (AWS) Asia-Pacific.  Megan has been involved in water stewardship since ...
Read more
Details:
Foundations of Water Stewardship is the first level of a modular training program for users of the AWS water stewardship system.
The course will be taken over two, three-hour sessions on the 18th and 25th July.
PROGRAM OBJECTIVES
The Foundations of Water Stewardship program will enable you to:
Understand how water stewardship can contribute to their organisation's goals;
Identify available tools and resources to support the implementation of water stewardship;
Understand how to engage with the AWS Standard 

and develop skills in implementing the AWS Standard v2.0 at their site

;

Grasp the core requirements of each of the five implementation steps of the AWS Standard, and;
When appropriate, prepare participants for the Advanced Training in the AWS Standard.
Find out about the Online Course: AWS Standard v2.0 Refresher
Alliance for Water Stewardship, Asia Pacific
waterstewardship.org.au
---