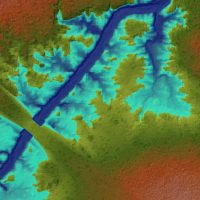 Course: 6th HEC-RAS Water Modelling 1D+2D
View 2D HEC-RAS Course March 2019
Latest version! Hydrologic Engineering Centres-River Analysis System (HEC-RAS)
HEC-RAS is recognised globally as an industry standard hydraulic modelling program and is available for use without charge. Using the latest version, these courses cover basic, intermediate and advanced levels across both 1D and 2D, and gives you access to select HEC-RAS experts who are BETA testers and work in the industry.

You can choose from 3 options in this HEC-RAS training:
2-day (Mon-Tues) 1D only
3-day (Wed-Fri) 2D only
5-day (Mon-Fri) 1D + 2D
Note: The 2D course assumes a basic understanding of 1D.

HEC-RAS 5.0.4 contains many key new features for editing both 1D and 2D data sets, much faster computations, the new 64 bit RAS Mapper can handle much larger terrain data sets and there are improvements to the solution for some settings. HEC GEO-RAS and other third party utilities are no longer needed to create 1D model elements! Come learn these new HEC-RAS features in this combined 1D and 2D training opportunity.
Date: Monday, 4 June 2018 - Friday, 8 June 2018
Location: SYDNEY: Novotel Sydney on Darling Harbour
Contact: training@australianwaterschool.com.au
Register your interest: https://awschool.com.au/training/6th-hec-ras-water-modelling-training-1d2d/
Presenters:
Details:
This week consists of TWO courses, run consecutively, attend either or both, depending on your level of experience and understanding.
Early Bird 20% discount applied to registrations by Monday 14th May 2018
What will you learn?
1D Topics:
• Open channel hydraulics
• Bridge and culvert analysis
• Scour analysis and hydraulic design
• Lateral weirs
• Junctions and split flow
• Steady and unsteady flows
• What's new in HEC-RAS 5.0.4:
• Build a 1D model from scratch directly in RAS Mapper
2D Topics:
• RAS Mapper and GIS interfacing
• Terrain manipulation
• 2D mesh creation
• Boundary conditions
• Hydraulic structures
• Options and tolerances
• Exporting results
• What's new in HEC-RAS 5.0.4
• Variable time step
• Mesh refinement areas
• Internal boundary conditions
• New culvert options
Latest version includes:
• Faster computation speed
• Ability to pre-process all 1D elements in RAS Mapper without GEO-RAS.
• Additional hydraulic structure options
• Variable computational time step
• RAS Mapper enhancements
• Internal boundary conditions
• 2D polygon mesh refinement
• Interface Bug Fixes
What's Included?
Morning and afternoon teas, lunches, lectures, workshops, hands-on case studies and a set of notes. Ample opportunities to discuss your own projects.
What to bring?
Your own Windows-based laptop with admin rights for installing software.
Benefits:
• Understand methods used by HEC-RAS software in modelling channel & flood plain storage
• Learn about unsteady flow and sediment transport analyses
• Undertake hands-on HEC-RAS modelling exercises with full instruction
• Know how to consult with modellers & engage with management regarding HEC-RAS models
• Know when it is appropriate to build an expensive model and when back-of-envelope will do
• Recognise the "point of diminishing return" in a model construction and implementation
• Learn troubleshooting and computational optimisation techniques
• Learn how to scope model development and review model results provided by others
| | |
| --- | --- |
| Who attends: | – Department of Works- PNG |
| – ACOR Consultants | – Envirotech |
| – Agfirst Engineering | – Land Dynamics Australlia |
| – Alluvium | – Melbourne Water |
| – ATC Williams | – Millar Merrigan |
| – Beveridge Williams | – Murray Darling Basin Authority |
| – Byrne Design | – pitt&sherry |
| – Chow Consulting | – Queensland Murray-Darling Committee |
| – City West Water | – Queensland Urban Utilities |
| – Commonwealth Environmental Water Office | – SARDI |
| – Demlakian | – SEQ Catchments |
| – Department of Energy and Water Supply | – TGM Group Pty Ltd |
| – Department of Main Roads | – Thiess Environmental Monitoring |
| – Dept. Science, Info. Tech. & Innovation | – VicRoads |
| – Department of Water | – Water Corporation |
HEC-RAS is recognised as an industry standard hydraulic modelling program that is widely used throughout the world. This training uses the latest Version of HEC-RAS, available for free download from the US Army Corps of Engineers, who author and support this software. The new version includes two-dimensional floodplain modelling, unsteady sediment transport, bank erosion, water quality, and the RAS Mapper GIS interface.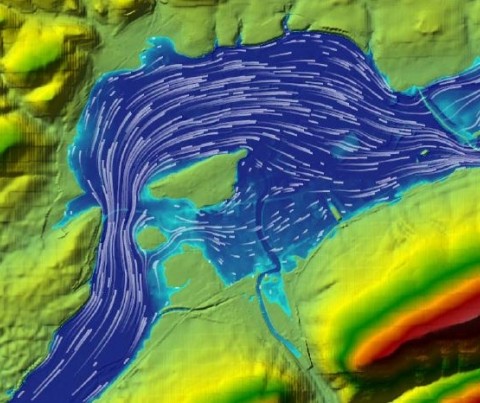 Course attendees will learn to build, run, and animate flood models using the free HEC-RAS software: See the following two remarkable videos of HEC-RAS Models:
US Army Corps of Engineers Bald Eagle Sunny Day Failure mp4    https://awschool.com.au/wp-content/uploads/BaldEagleSunnyDayFailure.mp4?_=1
US Army Corps of Engineers Coyote Dam Failure mp4   https://awschool.com.au/wp-content/uploads/CoyoteDamFailure.mp4?_=2
Also try this video: Adding Breaklines to Capture Linear Features
This training is offered in association with Floodplain Management Australia, Engineers Australia the Australian Hydrographers Association and the Australian Water Association. Members of EA, FMA, AHA, AWA receive a 10% Discount.
---