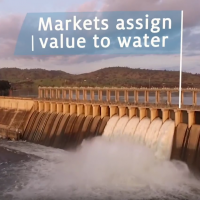 Workshop: Managing Your Water Asset
Navigating Water Markets & Matching Your Water Use With Appropriate Supply. Following on from the highly successful 1st workshop in Loxton.
This free workshop is designed specifically for the South Australian Agriculture Industry and is facilitated by ICE WaRM, in collaboration with PIRSA and others.
Date: Tuesday, 19 September 2017
Location: Murray Bridge Community Club
Contact: Joel for more information: 08 8236 5200, training@awschool.com.au
Register your interest: https://awschool.com.au/training/2nd-managing-water-asset/
Presenters:
Resources:
Irrigation & Agriculture
3 Jul 2017
Details:
Previous Loxton Workshop information, including session videos, ppts and interviews.
In this free Workshop:
Water trading basics and licencing.
Assisting irrigators to understand the maturity and scope of the Australia water market and provide some insight as to how they make it work for them.
Help to understand the connected nature of the Southern Murray Darling Basin and the industry dynamics across that region that could impact them.
Introduce the concept of effective capital deployment to achieve their desired water security.
The use of strategies to protect water quality and salinity levels.
An update on the 17/18 Seasonal outlook and the industry and other factors that may have an impact on the market.
Mapping your water use profile to meet your requirements
Learn about Australia's water markets, produced by the federal Department of Agriculture and Water Resources, for the 2017 Global Forum for Food and Agriculture:

---