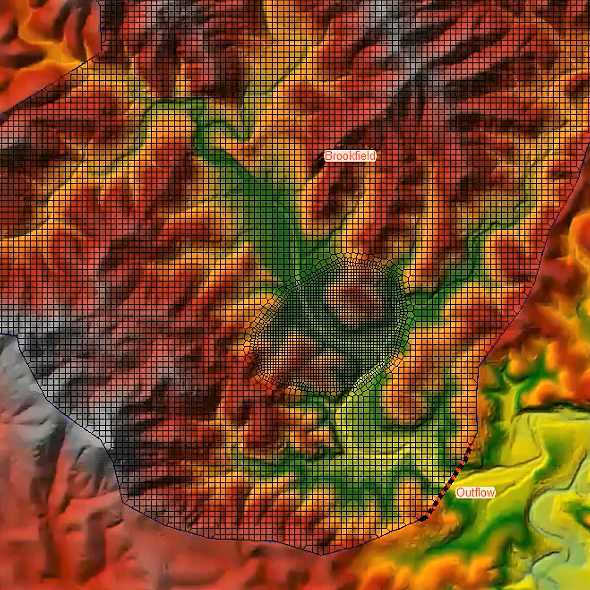 Online Course: 2D Water Modelling with HEC-RAS- April 2019
View upcoming course for this topic
A live and interactive 2D modelling course with added individual support
Master the powerful features of HEC-RAS to build 2D models through the new versions additional features and tools, with improved modelling capabilities and faster run times. Includes up to one hour of optional one-on-one screen-sharing time with the instructor to assist with troubleshooting or to set up or optimise your own project model.

These interactive, mentoring sessions provide a unique opportunity to ask questions as you build a model with your presenter, Krey Price, a highly experienced HEC-RAS user with extensive software development and lecturing experience. His career includes 15 years of developing hydraulic models for the U.S. Army Corps of Engineers.

Places are limited to allow for greater interaction. The March course filled fast, register now to secure your place!
Date: Tuesday, 2 April 2019 - Tuesday, 9 April 2019
Time: 2:30pm (Australia/Adelaide; find your local time)
Format: 2 live and interactive sessions (of 2-hrs) + 1hr optional 1-on-1 with instructor
Cost: $295
Contact: Joel Voortman
Register your interest: https://awschool.com.au/training/2d-water-modelling-with-hec-ras-april-2019/
Presenters:
Surface Water Solutions
Educated at the University of California at Berkeley, Krey is a civil engineer and project manager with international experience in water resources. He is engaged in computational modelling, engineeri...
Read more
Details:
Format: 
The course is delivered through 10 units via the learning platform
2 live and interactive sessions of 2 hours over two weeks

Tuesday, 2nd April 2019, 2:30pm (Australia/Adelaide Time)
Tuesday, 9th April, 2019 2.30pm (Australia/Adelaide Time)
Sessions are recorded & uploaded to the learning platform if you cannot attend live.

Up to one hour optional one-on-one screen-sharing time with the instructor to assist with troubleshooting or to set up or optimise your own project model.
Pre-and-post-course materials to go through via the learning platform.
Exercises using a 50 page training manual between the 2 week live sessions.
Preparation: Pre-course reading and video watching is encouraged. There is also an opportunity to tailor the sessions to your direct questions via the initial survey. After the first week you will be given some exercises to complete, prior to the next session.
Requirements: A good internet connection and the latest version of HEC-RAS 5.0.6.
Download here. Please note: HEC-RAS Version 5.0.4 and newer will only run on 64-bit Windows operating Systems (including 64-bit versions of Window 7, 8.0, 8.1 and 10). Make sure your operating system is up-to-date with all Microsoft patches for your version, before trying to install HEC-RAS.
Content: This course consists of interactive, training and mentoring sessions. Krey will step you through the building of a flood model using RAS Mapper. You will then run, animate, interpret and troubleshoot your model.
Topics covered include:
Adding 2D mesh refinement areas
Adding individual culvert coordinates
Adding variable time steps
Adding internal boundary conditions
Generating rating curves
New options for exporting results
Outcome: On completion of the course attendees will be issued with a Certificate of Participation.
Previous attendees comments of this course: 
"The explanation on how things work behind the user interface was very helpful"
"These online courses are a great, low-cost format, and would be happy to do more of these."
"Both the 1D & 2D Courses have been very helpful for me. Thank you"
"The highly interactive nature of the session, allowing time for questions but also proceeding at a decent speed."
"The ability to interact as required via chat was hugely beneficial. The clarity of instruction was excellent."
"I found going through the all the exercises together was very useful. It has become really easy to replicate what I learnt in the session for my projects."
---