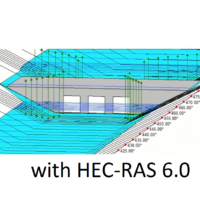 1D HEC-RAS 6.0 water modelling
Update your knowledge of 1D modelling using RAS Mapper, includes 3hr live session on version 6.0
Complete the 1D HEC-RAS On-demand course now, ready for the 3-hour live session on 11th February, that will step-through the latest updates in version 6.0. Follow along and build your own model as Krey Price introduces you to fundamental processes and key concepts of HEC-RAS.
Date: Thursday, 11 February 2021
Time: 10:00am (Australia/Sydney; find your local time)
Format: 5+hours of training recordings to step through via the learning platform and 3-hour live session on 11th Feb.
Cost: AUD$495 (includes GST)
Register your interest: https://awschool.com.au/training/1d-hec-ras-6-0-water-modelling/
Presenters:
Surface Water Solutions
Educated at the University of California at Berkeley, Krey is a civil engineer and project manager with international experience in water resources. He is engaged in computational modelling, engineeri...
Read more
Details:
This on-demand course now includes an additional 3-hour live session on the 11th February. Take your existing model as complete at the end of the on-demand course and update with the new 6.0 latest release.
Master the powerful features of HEC-RAS using RAS Mapper to build 1D models without requiring third-party software.
Krey Price, Director of Surface Water Solutions, is a highly knowledgeable HEC-RAS user and experienced presenter who clearly describes the principles in each of the 14 steps of this course, to maximise your awareness, understanding, and confidence in using HEC-RAS.
Learn how to set up, run, animate, interpret and troubleshoot your model. Questions can be posed through our interactive online learning platform.
With 5+ hours of training materials, a step-by-step manual to follow, exercise homework and a final quiz, this course will provide an invaluable benchmark for the novice user or someone who is interested in updating their knowledge to the latest version of HEC-RAS.
Introduction video: 

Topics covered include:
Setting up RAS Mapper
Adding river, banks, and flow paths
Aligning cross sections
Adding roughness
Entering flow data
Running your simulation
Viewing your results
Adding bathymetry
Analysing roughness sensitivity
Analysing boundary condition sensitivity
Viewing cross sections and profiles
Investigating and viewing results
Exporting results
This course is designed with:
Units to complete via this learning platform.
Videos split into easy-to-follow steps.
Exercise to follow through- via a 40-page training manual.
Surveys and a final quiz to receive your certificate of completion.
Ability to ask questions to your presenter and submit survey responses.
Requirements:
A good internet connection and the latest version of HEC-RAS. A mouse with a centre e-wheel button is recommended. Using dual monitors is highly beneficial (one with the video recording & one with your own model).
Please note:
HEC-RAS Version 5.0.7 will only run on 64-bit Windows operating Systems (including 64-bit versions of Window 7, 8.0, 8.1 and 10). Make sure your operating system is up-to-date with all Microsoft patches for your version, before trying to install HEC-RAS.
---