On-demand training
Take control of your own learning anywhere, anytime with AWS On-Demand Courses.
Our courses present you with a wealth of information at your fingertips, and our commitment to ensure you receive industry-designed professional development and training has been enhanced by our new offering.
Participants can gain access to knowledge-based content in real time, anywhere and at anytime. Employers can deliver AWS On-Demand Courses to their employees without pulling them away from their jobs and the new knowledge can be immediately applied to the organisation – when it's actually needed.
Choose from a wide range of  industry-designed online training courses designed to quickly take you from 'not knowing' to 'doing'.
Frequently Asked Questions (FAQ)
Start now, complete at your own pace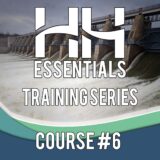 Understand key differences in 1D, 2D and 3D flow computations

Thursday, 1 January, 1970 12:12

Presenters: Hubert Chanson, Jessica Daignault, Chris Goodell, Krey Price