First Australian EU-AU Scholar Arrives Home
Tuesday, 2 February, 2010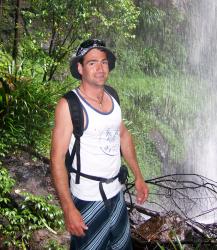 Brett Ibbotson, the first Australian student to be awarded an Australia-European Union exchange scholarships, has returned after five months studying at the Technische Universiteit in Delft (TU Delft) in the Netherlands.
Thirty-year-old Brett, from Encounter Bay near Victor Harbour in South Australia, is studying ICE WaRM's Master of Water Resources Management programme at the University of South Australia after gaining a Bachelor of Technology degree, majoring in aquaculture, from Flinders University.During his stay in Delft, he worked on a project to develop photovoltaic desalination plants for remote areas.
As his time in the Netherlands came to a close, Brett wrote his personal account of the exchange programme:
"The history of the Netherlands is fascinating, as is the engineering – with around 30% of the land and 60% of the people living below sea level.
"The TU Delft is renowned throughout the world for its work with all aspects of water resource management and I was eager to get started on the project that was the focus of my exchange; The Effects of Fluctuating Operation on Reverse Osmosis Membranes.
"This was part of the larger project of TU Delft called Drinking with the Wind, aimed at directly coupling reverse osmosis with renewable energy sources, particularly for remote areas. Indeed a lot of research and development of Dutch universities and water companies goes into improving the living conditions in the developing world.
"It was quite a challenge to design, construct and test the system, but I learnt a lot and got to liaise with a variety of people from different industries and backgrounds.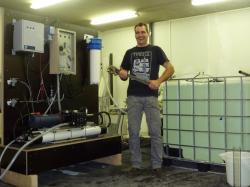 "I was fortunate to attend several conferences where I got to see presentations of emerging technologies and meet leading and upcoming professionals in the field.
"I am preparing a paper of my research for peer reviewed publication and parts of my research may also be used for a second paper detailing results of the Drinking with the Wind project.
"My time as an ICE WaRM exchange student has been an unforgettable one and I thank them for the opportunity. It has greatly assisted my development as a water professional and allowed me to experience some of the culture and countries in Europe. Proost! (Cheers!)"
The Australia-European Union scholarships assist students with travel costs and provide a monthly living allowance. They are open to post-graduate students taking water-related courses at ICE WaRM's partner educators – the University of Adelaide, Deakin University, the University of South Australia, Flinders University and CQUniversity. The Australian component is managed by ICE WaRM.
Three leading European universities are taking part in the exchange programme – the University of Dundee in Scotland, the TU Delft and the Technical University of Dresden in Germany.
Exchange students can take courses in water resources management or carry out research at the exchange institutions. All courses are presented in English.
The programme provides for up to 45 students from ICE WaRM's Australian partner universities and another 45 students from Europe to take part in the exchange.